Date:
May 19, 2009
Contact:
Judy Olson
, (605) 433-5240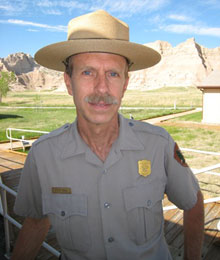 Steve Thede has been appointed deputy superintendent of Badlands National Park, effective May 10, 2009.
"I am pleased to have such a seasoned ranger join our staff," said Dr. Paige Baker, Superintendent. "Steve's long and successful career in the National Park Service is the right fit for Badlands National Park."
Steve has 25 years of experience with the National Park Service including four years at Badlands National Park in the 1990's where he worked as a Supervisory Park Ranger in the Resource Education Division.
Steve started his NPS career at the North Rim of the Grand Canyon where he was a seasonal Law Enforcement Ranger with collateral duties in Wildland and Structural Fire, Search and Rescue and Emergency Medical. He worked in similar capacities at Yosemite and Glen Canyon. After branching into the Interpretation field at Bryce Canyon, he worked in both law Enforcement and Interpretation at Castillo de San Marcos and Bent's Old Fort. From Bent's Fort he came to Badlands and then to Whiskeytown where he has managed the Interpretation and Cultural Resources Division for the past 10 years. Steve also completed details as a Special Assistant in the Director's Office in Washington and as Superintendent of Oregon Caves National Monument.