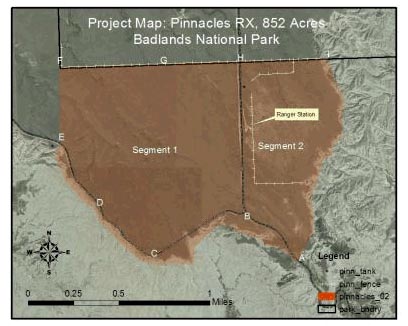 News Release Date:
April 6, 2012
Contact: Julie Johndreau, 605-433-5242
BADLANDS NATIONAL PARK, Interior, S.D. - Fire crews from Badlands National Park and the Northern Great Plains Fire Office are preparing for a 500-acre burn that is expected to take place Friday, April 13. The burn location is west of the Pinnacles Entrance, between the Badlands Loop Road (Highway 240) and the Sage Creek Rim Road. If conditions are favorable, sections along the Badlands Loop Road (Highway 240) from mile marker 13 to 21 will also be burned. The goal of these burns is to restore the natural process of fire to the prairie ecosystem, to reduce the build-up of dead and dried fuels, and to reduce non-native grass species.

This prescribed fire will only be conducted if the conditions are right. Factors such as humidity, fuel moisture, forecasted weather and especially wind speed and direction will be carefully evaluated. If the prescribed set of conditions do not exist, the planned fire will be postponed or cancelled.
-NPS-