South Unit General Management Plan, Record of Decision Signed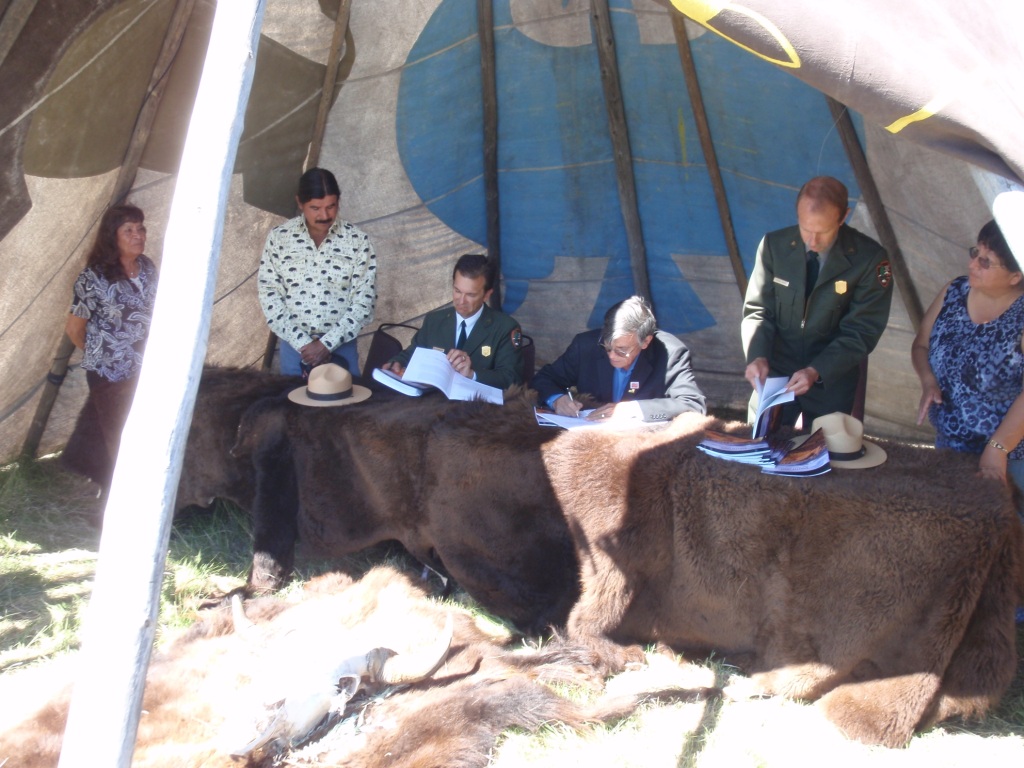 News Release Date:
June 7, 2012
Contact: Eric Brunnemann, 605-433-5281
BADLANDS NATIONAL PARK, INTERIOR, S.D. - On Saturday, June 2 the Record of Decision (ROD) for the South Unit General Management Plan, Badlands National Park, was signed by Pine Ridge IndianReservation President John Yellow Bird Steele and Badlands National Park Superintendent Eric Brunnemann. The document was then sent to National Park Service (NPS) Midwest Regional Director Mike Reynolds in Omaha, Nebraska, who today concluded the six year process of public involvement in the South Unit General Management Plan (GMP)/Environmental Impact Statement (EIS), by adding his signature as the approving official.  Referring to taking the next step and implementing the GMP/EIS's Preferred Alternative, Reynolds stated, "I look forward to working with all of you to create a lasting vision and a tribal national park with programs that match the incredible resources and amazing people of the Badlands and the Oglala Sioux Tribe."

The ROD is significant because it identifies continuing protection and visitor experience goals for the South Unit by selecting the Preferred Alternative as the guide to best manage these world class natural and cultural resources. The document also calls for management of the South Unit by tribal members in what would be the nation's first tribal national park.  The NPS, Oglala Sioux Tribe (OST), and Oglala Sioux Parks and Recreation Authority (OSPRA) have been working cooperatively on the development of a GMP/EIS that establishes a common vision for managing resources and visitor use in the South Unit of Badlands National Park since early 2006.  With the signing of the ROD, the NPS and OST will focus on restoring the health and vibrancy of the prairie, enhancing wildlife habitat, and providing road and trail access into the South Unit.

The final GMP/EIS was released on April 27, and remained available for 30 day public review following announcement of its availability in the Federal Register  on April 26.  This GMP/EIS has been developed with extensive public input and review by tribal members, NPS, agencies and organizations that included 18 public scoping meetings, 5 draft review public meetings, and 361 comments.  Copies of the final GMP/EIS are available at Badlands National Park, and on the Internet at https://www.parkplanning.nps.gov/badl.   It can also be accessed through the park's home page at https://www.nps.gov/badl.

Following the signing of the ROD at White River Visitor Center, Brunnemann stated, "This signing is a historic milestone, and it's the beginning of a new partnership."  The vision described in the GMP/EIS, which includes management by tribal members, will require legislation and Congressional approval.  Brunnemann and Steele pledged to begin this new process immediately following the summer tourist season in August.  Both tribal and NPS representatives will then meet to start drafting the legislation needed to turn this vision into reality.


-NPS-
Last updated: April 10, 2015