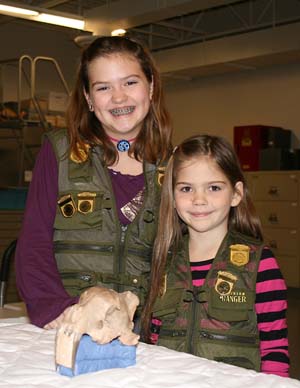 News Release Date:
January 27, 2011
Contact: Julie Johndreau, 605-433-5242
Contact: Aaron Kaye, 605-433-5243
 A 33 million year old saber tooth cat fossil met state-of-the-art 21st century technology at Rapid City Regional Hospital (RCRH) today. Badlands National Park, in partnership with RCRH, completed a CT scan of the well preserved skull.
"Saber tooth cat skulls with intact canines are extremely rare," said park paleontologist Rachel Benton. "In addition to that, bite marks on this skull make it scientifically significant. The CT scan completed today will provide researchers with information that can be used to determine what type of animal attacked this cat and probably caused its death."
The Regional Hospital CT scanner used to produce 3-D images of the skull was a dual source Siemens SOMATOM Definition Flash, 128-slice CT, which offers fast, high-quality images in less than five seconds. RCRH installed the new scanner in July of 2010.
"We are excited to partner in this project," said Cindy Hougland, RT(R), (MR), (CT), RCRH Supervisor of MRI and CT. "We purchased and installed this technology to benefit all patients in this region. It is a bonus we can utilize it to help our scientific community in this manner."
Seven-year-old Kylie Ferguson, of Georgia, discovered the fossil last summer while on vacation in Badlands National Park. Kylie and her family were on hand to witness the CT scan of her amazing discovery. "Our whole family is extremely excited," notes Kylie's dad, Tom Ferguson. "We are so glad we attended the Junior Ranger program and reported this fossil. This discovery gives other children a chance to get excited about the science happening in our national parks."
In addition to the scientific research aspect, the CT scan will also provide raw data to make a 3-D model of the skull. A machine at South Dakota School of Mines and Technology (SDSM&T) will build the model. The resulting plastic cast will be more durable than the fragile fossil. When complete, a cast will be on display at the Ben Reifel Visitor Center. Skull casts will eventually be available for sale through the non-profit Badlands Natural History Association (BNHA) bookstore and online. BNHA supports scientific research and educational programs in the park including this project.
Kylie's Fossil Find Video Podcast
Kylie's Fossil Find Lesson Plan