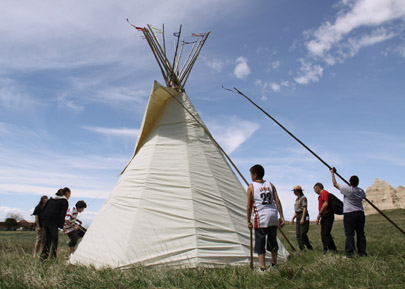 News Release Date:
May 22, 2009
Contact: Judy Olson, (605) 433-5240
Students from Rockyford Elementary School on the Pine Ridge Indian Reservation spent the day experiencing the wonders of Badlands National Park with Park Ranger Ellen Conroy. On May 6, 2009, the students came to the park on a field trip to learn how to set up a Lakota style tipi. Twenty-five 7th grade students from the science and social studies classes participated in the event.
The students carried the poles and canvas to the tipi location, set up and raised the tripod and arranged the remaining poles before setting the canvas in place. During the lesson the students learned how to work as a team as well as learning the steps of setting up a tipi in the Lakota style. Ellen is a seasonal interpreter at Badlands National Park near Interior, SD.