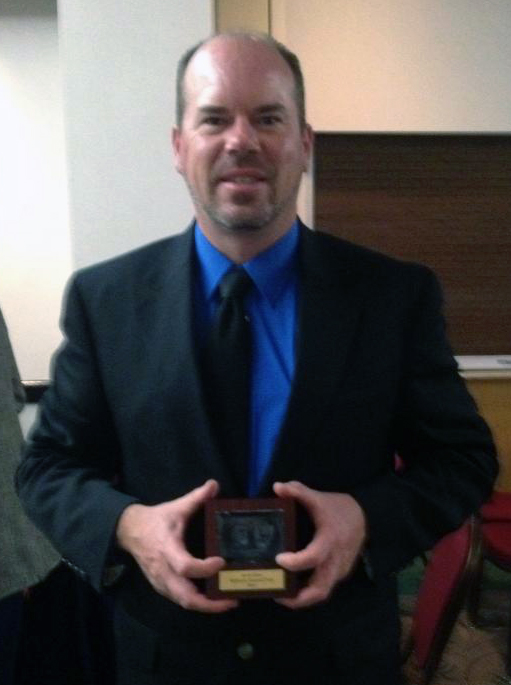 News Release Date:
November 8, 2013
Contact: Julie Johndreau, 605-433-5242
BADLANDS NATIONAL PARK, INTERIOR, S.D. — Park ranger Aaron Kaye has been awarded the National Park Service Midwest Region's Freeman Tilden Award for excellence in interpretation. The Freeman Tilden Award is one of the highest awards presented to an individual National Park Service (NPS) interpreter. The award is presented annually and recognizes outstanding contributions to the practice of interpretation and education by an NPS employee.
Kaye is being honored for his work on the Badlands Astronomy Festival, which is now an annual event at the park. His development and coordination of the festival increased park visitation by 3,600 visitors. Furthermore, through events and partnerships the festival engaged local underserved youth, especially those from the Pine Ridge Indian Reservation. Many different audiences connected with the breathtaking night sky resources through educational panels, family-friendly activities, telescope viewing, and special guest speaker presentations.
"We are proud of Aaron's achievement. The annual Astronomy Festival has a positive impact on our visitors and our local communities," said park superintendent Eric Brunnemann. "We all thank Aaron for his dedication and for his contributions to meeting 'Starry, Starry Night,' which is an NPS Call to Action item to protect dark night skies."
The award is named for Freeman Tilden, whose 1957 book Interpreting Our Heritage gave form and substance to the profession of interpretation. His principles of interpretation have become a standard for National Park Service employees. The creation of the Freeman Tilden Award in 1981 for outstanding achievement in interpretation sparked a new surge of creativity comparable to that sparked by Freeman Tilden himself. The award recognizes creative thinking and original program/project activity among interpreters which, when delivered, results in positive impacts upon the preservation of the parks and the visiting public.
The six regional recipients each receive a lithograph of Freeman Tilden, a copy of his seminal work Interpreting Our Heritage, and a Regional Crystal Tilden Award.
For more information, see https://www.nps.gov/badl
Follow us on Facebook at BadlandsNPS and on Twitter @BadlandsNPS.