Date:
January 13, 2015
Contact:
Eric Brunnemann
, 605-433-5281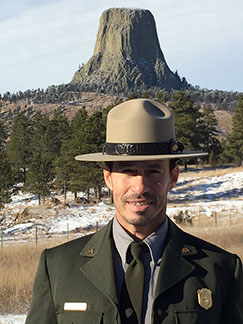 Badlands National Park announces the arrival of Reed Robinson as the park's new Deputy Superintendent. Robinson is currently the Superintendent at Devils Tower National Monument in Wyoming, and has accepted this promotion to Badlands National Park because of his demonstrated leadership and community relations skills. He assumes the Deputy Superintendent position on January 11, 2015.
"Reed came to the National Park Service in 1990 as a student hire, specializing in both facilities operations and historic preservation. He brings strong leadership ethics and a comprehensive knowledge of National Park Service policies and management," said Badlands Superintendent Eric Brunnemann. "As Superintendent at Devil's Tower, we've worked together with the Oglala Sioux Tribe, and have consulted with the Tribe about the South Unit. Badlands is one of the largest National Parks in the Midwest United States, and the role of the Deputy at such a large park is very complex. Reed's operations experience will serve Badlands very well when working with our tribal partners and managing the South Unit."
Robinson, a 24-year veteran of the National Park Service, has been actively involved with the Badlands South Unit's General Management Plan and Environmental Impact Statement (GMP/EIS) since 2010. While Superintendent at Devils Tower, Reed successfully improved and strengthened community and tribal relations;reinvigorated the climbing and search & rescue programs;and completed a series of facilities, interpretive, natural & cultural resource programs and projects. In the words of his leadership team, "Reed Robinson managed a park like it should be managed, provided an actionable vision, and maintained the integrity of the monument." Before coming to Devil's Tower, Reed served as the Supervisory Facility Manager at Olympic National Park, where he directed a comprehensive facilities, engineering, and construction program throughout the almost 1 million acre national park.Other duty stations where Reed has served include Capital Reef NP, Fort Laramie NHS, and Grand Teton NP;the National Park Service Historic Preservations Training Center in Frederick Maryland;and Timpanogos Cave NM.
Robinson graduated Summa Cum Laude from Utah Valley State University. He is a founding member of the National Park Service's Council for Indigenous Relevancy, Communication, Leadership, and Excellence, C.I.R.C.L.E. He and his family have direct ties to South Dakota, where he and his two adult children are enrolled as members of the Rosebud (Sicanju) Sioux Tribe.
Robinson commented, "Transfering from Devils Tower NM, better known as Bear Lodge by the Lakota, to Badlands NP or Mako Sica [Lakota] is a natural professional and personal progression for me at this point in my career. I am excited to begin working with the staff at Badlands NP and communities of Western SD. I look to merge and assimilate my leadership skills and operational experience with Superintendent Brunnemann and his team at Badlands. I'm keenly interested in an applied focus on Lakota culture, heritage, history &youth engagement with a strong emphasis on learning from the original caretakers of this land. The NPS mission and Organic Act is a formalized and contemporary standard that is omnipresent and innate within all of the indigenous cultures on the North American continent and I believe there are strong lessons in Indian Country that directly compliment the laws and policies that guide the service. My understanding and subsequent application of these important and proven lessons to NPS natural &cultural protection values will strengthen the second century of NPS resource stewardship in a positive way."
Badlands National Park consists of 244,000 acres of sharply eroded buttes, pinnacles and spires blended with the largest, protected mixed grass prairie in the US. The Badlands Wilderness Area covers 64,000 acres and is the site of the reintroduction of the black-footed ferret, the most endangered land mammal in North America. The South Unit of the park is within the Pine Ridge Indian Reservation. The South Unit is co-managed with the Oglala Sioux Tribe and is proposed, under the 2012 GMP/EIS to become the first tribal national park in the nation.