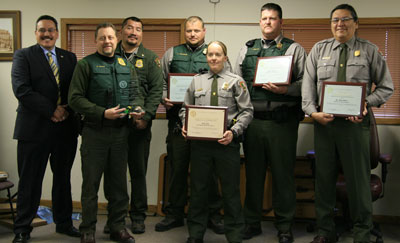 News Release Date:
March 4, 2009
Contact: Judy Olson, (605) 433-5240
On Wednesday, February 18, 2009, National Park Service law enforcement rangers participating in Operation Dakota Peacekeeper were awarded for their work and dedication to combat crime within Indian country. Elmer Four Dance from the Bureau of Indian Affairs presented awards to participants of Operation Dakota Peacekeeper including the Superintendents from all participating parks, the Chief Ranger, Midwest Regional Office, and law enforcement rangers from Badlands NP, Mount Rushmore NM, Theodore Roosevelt NP, Pictured Rocks NL, Voyageurs NP, Indiana Dunes NL, Pea Ridge NMP, Sleeping Bear Dunes NL, St. Croix NSR, Ozark NSR, Perry's Victory, Hopewell Culture NHP, Mojave NP, Chickasaw NRA, Great Smoky Mountain NP, Scotts Bluff NM, Buffalo NR, Jefferson Expansion NM, National Capitol Region and Agate Fossil Beds NM.
Tribal Chairman Ron His Horse Is Thunder from the Standing Rock Indian Reservation said he started calling for help this spring, when Cory Long Chase was shot and run over with a car in McLaughlin, S.D. "Enough is enough," His Horse Is Thunder said. "I asked (the BIA) how many of my people have to die before something gets done." The chairman said there were only five BIA officers when he started his term in 2004. As a result, Operation Dakota Peacekeeper was formed to collaborate law enforcement personnel from the National Park Service, the Bureau of Indian Affairs and the Bureau of Land Management to reduce crime, target illegal drug activities, provide investigations to prosecute domestic violence and crimes against children and overall, develop strategies to promote safer communities on the Standing Rock Indian Reservation. The Standing Rock Indian reservation consists of 2.3 million acres and spans portions of North and South Dakota.
Only a few National Park Service employees were able to attend the Awards Ceremony at Badlands National Park. Pictured are Elmer Four Dance, Bureau of Indian Affairs, Mark Gorman, Chief Ranger, Badlands NP, Vincent Little Whiteman, Badlands NP, Stanley Buchanan, Badlands NP, Amy Fink, Mount Rushmore NM, Tucker Amiotte, Badlands NP and Dr. Paige Baker, Superintendent, Badlands National Park. The remainder of the awards were sent to the participants' parks for presentation.
Other participants included Hugh Dougher, Chief Ranger Midwest Regional Office, Jack Hanson from Badlands NP, Brad Eggers, Les Hanson, David Woodcock and Josh Gibbs from Mount Rushmore NM, Ron Sams and Grant Geis of Theodore Roosevelt NP, Shaun Hughes and Amber Tembreull from Pictured Rocks NL, Jay Brown and Brad Farlinger of Voyageurs NP, Rich Eshenaur of Indiana Dunes NL, Matt Fry from Pea Ridge NMP, Paul Chalup and Michael Stansberry of Sleeping Bear Dunes NL, Chuck Carlson, Dave White, Nick Schope and Rod Turner of St. Croix NSR, Austin Konkel and Lindel Gregory of Ozark NSR, David Van Nest from Perry's Victory, Mark Davison from Scotts Bluff NM, Tracy Whitaker of Buffalo NR, Robert Bjelland of Jeffferson Expansion NM, Rick Perkins and Will Gallus of Hopewell Culture NHP, Kelsey Cassidy, Mojave NP, Kane Seitz, Randi Conn and Dale Culver of Chickasaw NRA, Ron Lewis from National Capitol Region, and Patrick Miller of Agate Fossil Beds NM.