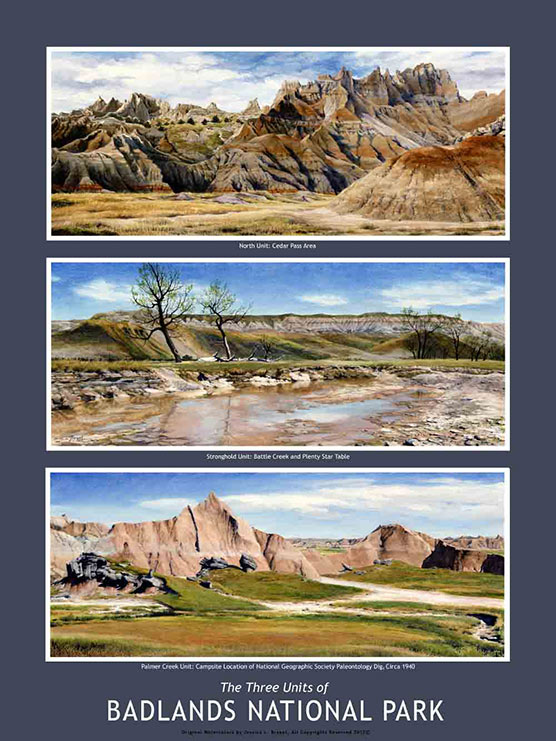 News Release Date:
April 30, 2013
Contact: Jennie Kish Albrinck, 605-433-5240
Contact: Julie Johndreau, 605-433-5242
BADLANDS NATIONAL PARK, INTERIOR, S.D. - Three new watercolor paintings by Artist in Residence Jessica L. Bryant are now on display at the Ben Reifel Visitor Center in Badlands National Park. Bryant's donation of the paintings is just the most recent effort in an ongoing partnership between Badlands and the artist, who worked with tribal youth on the Pine Ridge Indian Reservation during her residency.
Two of Bryant's paintings depict scenes from the South Unit of Badlands National Park, which is located on the Pine Ridge Indian Reservation and is part of a proposed tribal national park. To foster a long-term commitment to the tribal national park idea, Badlands has been building connections with youth in local communities. Using science and art together, the hope is to inspire young minds while encouraging youth toward careers in conservation.
"As part of my residency, I worked with youth at the Red Cloud Indian School to help them create their own paintings of these beautiful, meaningful places that are located on their tribal lands," Bryant said. Student work can be viewed at the park's Flickr site. 
The three paintings-"North Unit: Cedar Pass Area," "Stronghold Unit: Battle Creek and Plenty Star Table," and "Palmer Creek Unit: Campsite Location of National Geographic Society Paleontology Dig, Circa 1940"- represent the varied landscapes and areas of historical significance that can be found within the park. The rugged beauty of the badlands draws visitors from around the world and has inspired artists for generations. The striking geologic deposits contain one of the world's richest fossil beds, and the park's 244,000 acres protect an expanse of mixed-grass prairie. The landscape has been sacred ground to the Lakota people for centuries.
Postcards and posters of Bryant's paintings are also available from the Badlands Natural History Association (BNHA) bookstore at the visitor center and online.
Bryant was recently honored by having a painting accepted into the 146th Annual International Exhibition of the American Watercolor Society in New York. Plans are underway for a 2014 Dahl Arts Center exhibit of Bryant's work related to the South Unit of Badlands National Park.
Follow us on Facebook at BadlandsNPS and on Twitter @BadlandsEdu or @Badlands_Ranger.
-NPS-