Date:
November 18, 2010
Contact:
Wolf Schwarz, 605-433-5270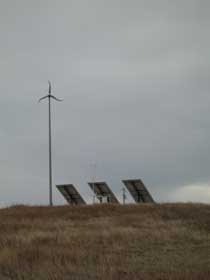 BADLANDS NATIONAL PARK, Interior, S.D. —A new alternative energy system will become operational at Badlands National Park on November 19th. The system relies on both sun and wind to generate usable energy through a hybrid photovoltaic and wind turbine. Energy not consumed by the park will flow back into the energy grid.
"This is an exciting project that fully supports the National Park Service's efforts to reduce green house gasses by investing in new technologies," noted park superintendent Eric Brunnemann.
The project is funded through the American Recovery and Reinvestment Act and aims to reduce overall green house gas emission. Power Plus Electric, based in Piedmont, SD, was awarded the contract to design and build the system. The system will generate 15,696 Kilowatt hours annually will be installed at the Pinnacles Entrance near exit 110 on Interstate 90.
-NPS-