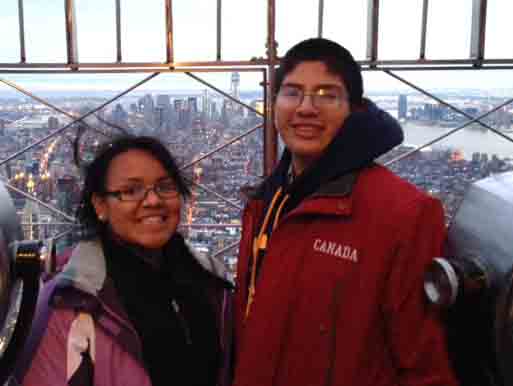 News Release Date:
January 31, 2014
Contact: Julie Johndreau, 605-433-5242
Seventeen year old Dwan Wilcox and fifteen year old Earl Henry Lamont, both students at Crazy Horse High School in Wanblee, SD, are representing their community and serving as Badlands National Park ambassadors in New York City this week. The visit is sponsored by Badlands educational partner, The Calhoun School of Manhattan, NY. The shared purpose is to foster a cultural exchange and sharing of ideas among the young students. Badlands National Park is working to inspire the next generation of park stewards and to provide local Lakota youth with valuable professional experiences. The program goal is to mentor youth and create opportunities for them to pursue career interests in resource preservation, science, cultural interpretation, or other related fields in public land management.
The Calhoun School has brought students to Badlands National Park for the last two years, but this is the first time SD students have visited NYC. "Many people from the reservation don't get to travel and don't get to try new things. I've gotten the opportunity to go to New York," said Dwan Wilcox. "I'm trying new food and meeting all kinds of people from different places. The kids I meet here ask about my background, where I come from, and what kind of environment I live in. I am thankful for the opportunity." In March, The Calhoun School will bring twelve students and three teachers to Badlands for a week-long immersive experience. South Dakota students from Pine Ridge Indian Reservation will join the group, as they have for the past two years.
Dwan and Earl were both participants in the Badlands Youth Intern program last summer.Their teacher, Josh Menke is a graduate of the Teach for America program and is a partner teacher under the National Park Foundation's Park Steward grant. Mr. Menke works with the students at school and the park to make connections and facilitate their learning.
"This program is part of a larger park effort to engage Lakota youth in the work of the National Park Service," said park superintendent Eric Brunnemann. "Through partnerships such as these we can continue to reach diverse and underserved youth in our local communities and across the US."
Badlands National Park youth programs are made possible through several grants and partnerships. Funding over the last two years has been provided by Badlands Natural History Association, National Park Foundation's Park Steward grant, World Wildlife Fund, The Calhoun School, and NPS Youth Partnership Program funds.
Additional photos are available on the park's Flickr page.