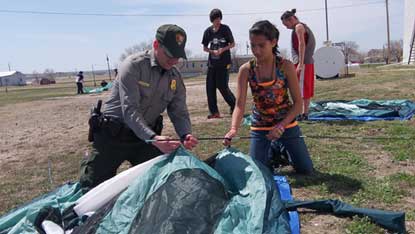 News Release Date:
April 25, 2013
Contact: Julie Johndreau, 605-433-5242
Interior School's combined sixth, seventh, and eighth grade class recently won a National Kids to Parks Day contest. The class was awarded $1,000 for an overnight camping trip to Badlands National Park. Although the school regularly participates in park education programs, this will be the first student campout of its kind.
The fourteen students in the award-winning class wrote a proposal to camp at the primitive Sage Creek Campground.Park rangers worked with the students to help them plan outdoor activities that emphasize healthy living, educational goals, and stewardship of park resources.
"We live in a rural area and are far apart from each other. This is a chance to spend time together outside of school," wrote the middle schoolers in their contest entry."For those of us that have never been out camping we will learn to pitch a tent and learn other valuable camping skills. We will keep a nature journal so our memories will last a lifetime."
To get ready for their campout next month, the students participated in an Explorers Program with Badlands Chief Ranger Casey Osback.They learned about search and rescue procedures, getting hands-on training in important outdoor skills that professional rangers rely on.
"The Explorers Program allows kids to learn by doing," said Osback."We hope the memories they make today will inspire some of them to pursue careers in the parks.Ultimately, our work with these students is helping to create the next generation of park stewards."
Interior middle school teacher Jennifer Van Pelt said, "The kids are so excited about this opportunity.It's a great culmination of our ongoing educational partnership with Badlands."
The National Kids to Parks Day Contest is sponsored by the National Park Trust.The contest supports bringing students to parks for National Kids to Parks Day, an annual celebration that supports First Lady Michelle Obama's "Let's Move Outside!" initiative.Winning schools around the country receive funding for one park experience, including school bus transportation, healthy snacks, park related fees, or supplies.