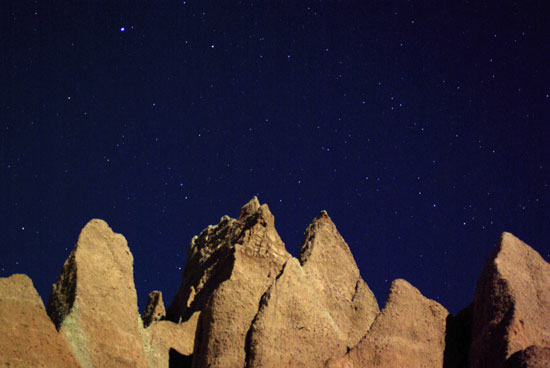 News Release Date:
July 23, 2012
Contact: Aaron Kaye, 605-433-5243
Badlands National will hold its first Badlands Astronomy Festival, August 17th-19th in conjunction with the South Dakota Space Grant Consortium's annual Space Days 2012. All events will be in the area around the Ben Reifel Visitor Center. Activities will focus on the night sky as a resource of the park. Guest speakers will include keynote speaker, NASA Astronaut Story Musgrave; "The City Dark" filmmaker, Ian Cheney; Mercury MESSENGER Mission Project Manager, Mark Kochte; DUSEL Nuclear Physicist, Dr. Peggy Norris; dakotalaspe.com videographer, Randy Halverson, Bryce Canyon "Dark Ranger,
Kevin Poe, author and musician, Dr. Fiorella Terenzi.
We will also include family-friendly, hands-on activities for the public. Some of the workshops available will be: model rocket building and launching, sponsored by the Interior, SD Volunteer Fire Department, Milky Way photography, cosmic ray detection, solar and night sky observation. We will have two portable planetariums with shows running continuously during the Festival, a book-signing by author and conservation advocate, Audrey Peterman in the BNHA bookstore and a special showing of the colors by the Civil Air Patrol cadets.
Amateur astronomers from around the country are planning to attend this event offering visitors a chance to enjoy and experience an amazing and often overlooked South Dakota treasure; a truly dark, night sky.
This event is made possible through funding from Badlands Natural History Association (BNHA), Friends of the Badlands, the National Park Foundation, Sioux Empire Astronomy, South Dakota Space Grant Consortium, the Journey Museum, SD Discovery Center, the Interior Volunteer Fire Department, the South Dakota School of Mines and Technology, Bryce Canyon National Park, Minuteman Missile National Historic Site and Badlands National Park. Our BNHA bookstore, located in the Ben Reifel Visitor Center will have festival-themed items.
Badlands National Park is located 9 miles south of exit 131, Interstate 90. Don't miss the opportunity to visit Minuteman Missile National Historic Site on this visit as well. Minuteman Missile will offer tours of its Delta-1 Launch Control Center daily at 10:00 a.m. and 2:00 p.m. Missile silo Delta-9 (I-90, Exit 116) is also open to the public daily from 8 a.m. to 4 p.m. Tour tickets are given out on a first come, first served basis by coming to the Visitor Center, located in Cactus Flat, also off I-90 at Exit 131, adjacent to the Conoco gas station. If you have any questions about the Badlands Astronomy Festival, or would like more information about the park, please call 605-433-5361, visit www.badlandsastrofest.org,and https://www.nps.gov/badl.
For information on lodging and camping in the park, refer to Cedar Pass Lodge at www.cedarpasslodge.com/lodging.