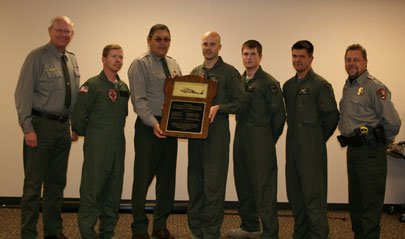 News Release Date:
November 14, 2008
Contact: Judy Olson, (605) 433-5240
BADLANDS NATIONAL PARK, S.D.—Badlands National Park recognized the South Dakota Air National Guard at 1 p.m. on Wednesday, November 12, 2008, for their assistance with a wilderness cleanup project this past summer, which could not have been accomplished without their assistance. Representatives for the South Dakota Air National Guard arrived at the park via helicopter, near the park's Headquarters complex and park management presented the award to the group.
Badlands National Park partnered with the South Dakota Air National Guard to air-lift 106,000 pounds of non-historic fencing materials from the 64,000 Badlands Wilderness Area during the week of August 10, 2008. For three days, the South Dakota Air National Guard helicopters rotated the pick-up and drop-off of 4X8 foot Heli-Baskets, as park staff and volunteers loaded and unloaded the materials, first in the Heli-Baskets and then into trucks.
Superintendent Paige Baker stated, "Partnering with the South Dakota Air National Guard proved beneficial for both parties involved and a tremendous cost savings for the park." Crew members logged 20.8 flight hours on the project. The cost per flight was $5,000 or a total of $104,000. Pilot Mike Reindl said the opportunity was a "good training mission using the Heli-Baskets with the long lines; we don't get that many opportunities to do that kind of mission. All the crews said it was very worthwhile and challenging." A total of $6,300 in volunteer funding for the project was received through the 2008 Volunteer National Special Project Funding Request.