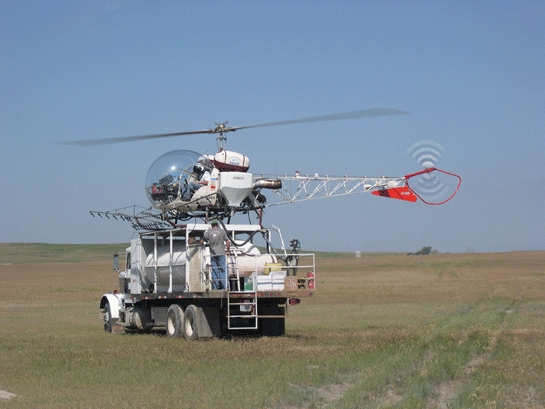 News Release Date:
July 5, 2007
Contact: Brian Kenner, (605) 433-5260
BADLANDS NATIONAL PARK, S.D. —Badlands National Park made significant progress on the war against weeds this past week. A total of 3,066 acres was aerial sprayed to effectively reduce the park's population of invasive Canada thistle plants. This was the largest number of acres ever treated in a single year at Badlands. The cost of the project was $23 per acre for a total of $70,000. Funding was provided through the Northern Great Plains Exotic Plant Management Team (NGP-EPMT), a National Park Service entity that supports non-native plant control at thirteen National Park units in the Northern Great Plains. A contract helicopter from Le Sueur, MN applied the chemical (see photo). "We hope to receive additional funding in order to continue aerial spraying operations at Badlands next year," said Director of Resource Management Brian Kenner.
The chemical, under the brand name of Milestone, is slightly less toxic than Tordon; which has also been approved for use in the Badlands. Aerial spraying was approved as an effective and environmentally preferred means of treating invasive plants in the 2003 Integrated Weed Management Plan (IWMP) for Badlands. Use of aerial treatment is the least disruptive means in areas designated wilderness because it does not impact the terrestrial resources and is relatively short-term in its noise and visual impacts for visitors and wildlife. During development of the IWMP, it was determined that aerial spraying is likely the only means available to park resource managers in gaining control over the estimated 4,000 to 5,000 acres of weeds within the Badlands Wilderness Area. The National Park Service also sprays invasive plants using ATVs outside of the confines of the Wilderness Area.