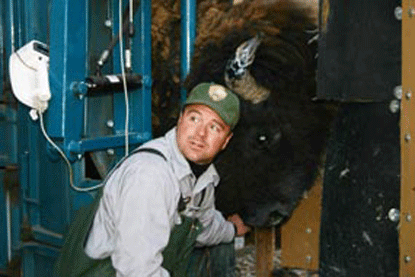 News Release Date:
October 31, 2007
Contact: Brian Kenner, (605) 433-5260
Contact: Eddie Childers, (605) 433-5263
BADLANDS NATIONAL PARK, S.D. — Badlands National Park has concluded its annual bison roundup. The Badlands bison roundup has greatly increased park management's ability to conduct a scientifically sound herd reduction program that preserves the genetic variability and appropriate age and sex distribution of the population.
Park employees and volunteers rounded up a total of 441 bison and processed them through the handling facility. Height and weight of each individual was recorded. Also, a blood sample was drawn to check for diseases/DNA testing. All animals tested negative for brucellosis, although there was one false positive brucellosis test on an older male attributed to laboratory error. Badlands bison continue to prove to be disease free after six years of vigorous testing. Blood samples for all females processed were sent to the Texas A&M University veterinary lab for pregnancy testing to determine how many calves we can expect in our population next year. The largest animal processed this year was a 12 year old bull that weighed almost 2,300 pounds and the oldest animal processed was a 27 year-old+ cow with very few teeth left, according to Dr. Boyd Porch, DVM.
Badlands NP must remove some bison from the population in order to maintain a balanced ecosystem. There are no natural predators and the bison are confined within park boundaries. All bison are donated to Native American Tribes in order to supplement herds throughout the country. The park transferred 33 bison directly to the Oglala Sioux Tribe (28 male, 5 female). The park also transfers bison to Native American Tribes through an agreement with the Intertribal Bison Cooperative of Rapid City. Included in this year's transfer were:
94 bison to the Spirit Lake Tribe of ND (42 female, 52 male)

25 bison to the Standing Rock Tribe of ND (13 female, 12 male)
Overall, the Badlands bison population was reduced from a pre-surplus population estimate of approximately 812 animals to approximately 660 animals, very close to the park's goal of 600 animals needed for an ecologically balanced grassland ecosystem during dry conditions. The recovery of bison populations throughout North America represents the ultimate success story in conservation and restoration biology.