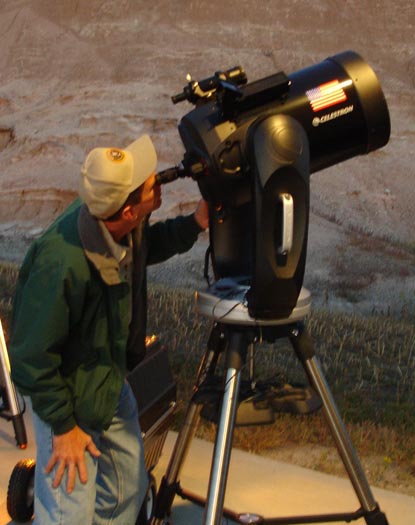 News Release Date:
May 19, 2009
Contact: Judy Olson, (605) 433-5240
The Badlands National Park Resource Education Division announces it will continue to offer weekly astronomy programs throughout the summer at the Cedar Pass Amphitheater. The program is hosted by a Park Ranger- Astronomer every Friday, Saturday, Sunday & Monday nights. A fun and informative presentation is followed by live observations of the night sky. A "Walk Across the Universe" is highlighted by powerful green lasers that easily allow for quick identification of many celestial bodies that are found in the dark sky above the Park.
Another highlight of the evening includes the use of large astronomy-type binoculars that allow the user to view such impressive sights as the rings of Saturn and the moons of Jupiter. Whenever the moon is shining, giant craters and long mountain ranges can be easily identified with the binoculars. Also, the Park will provide visitors with the use of first-class telescopes that permit the user to examine far-off galaxies and picturesque nebulas. Guests will be assisted by an astronomy volunteer provided by the National Park's NIGHT SKY PROGRAM.
For time and weather conditions, please call Badlands National Park @ 605-433-5241.