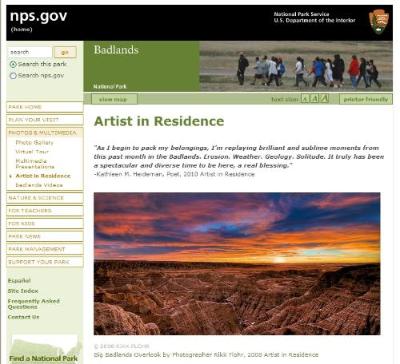 News Release Date:
February 15, 2011
Contact: Julie Johndreau, 605-433-5242
BADLANDS NATIONAL PARK, Interior, SD – An Artist in Residence online exhibit is now available to view on Badlands National Park's website. This gallery has been created to highlight the artwork submissions from numerous artists who have served residencies since the program's creation in 1996. Each year professional artists of all disciplines are selected to interpret this unique landscape for 4-6 weeks in the fall and spring months. Each artist provides a final artwork submission that becomes a part of the park's museum collection. Due to a lack of gallery space within the public park facilities, most of the artwork submissions are not on display. This online exhibit provides a virtual display space, making the artwork accessible for the public to view and enjoy.
Throughout the ongoing communication with former artists, it has been evident that their time spent in the Badlands has impacted each individual in profound ways. Having served a residency at the Badlands in the fall of 2005, painter Charlie Lyon came back to visit the park this past summer. Sitting down with park staff, he reflected on his experience and the importance of the program.

 "I think we are so lucky as citizens of the United States to have programs like this. I felt like I was a special person here. You gave me tremendous support as an artist and I received access to places that I would never have had before. I mean that's just a privilege, and this is public land so it's great to have that as part of my heritage as being an American. As an artist, you've got an incredible place. You've got the goods here, it's right here."

Oil painter Polly Townsend has been selected as the spring 2011 Artist in Residence and will begin her residency March 19th. Polly has traveled all over the world painting large-scale landscapes of striking geological formations and is eager to capture the unique landscape of the Badlands through her work.

To view the online exhibit, please visit : www.nps.gov/badl/photosmultimedia/artist-in-residence.htm
For information on how to apply to the program, contact Julie_Johndreau@nps.gov.

-NPS-