Prairies and Grasslands
Badlands National Park protects one of the largest expanses of mixed-grass prairie in the United States. The mixed-grass prairie contains both ankle-high and waist-high grasses, and fills a transitional zone between the moister tall-grass prairie to the east and the more arid short-grass prairie to the west.
Biologists have identified more than 400 different plant species growing in Badlands National Park. Each plant species is adapted to survive the conditions prevalent in the mixed-grass prairie ecosystem. The climate here is one of extremes: hot, cold, dry, windy and stormy with blizzards, floods, droughts, and fires. Although you can find trees, shrubs, and forbs, it is grasses that dominate the landscape.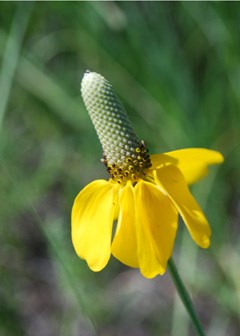 Western wheatgrass is the predominant grass in the prairie areas of Badlands National Park. Growing one to two feet high, it is a sod builder and thrives on the clay soils of the Badlands. Some forbs and grasses that grow in association with western wheatgrass are prairie coneflower, white milkwort, needle-and-thread grass, and prairie dropseed.
The native grasses of the mixed-grass prairie serve as important food sources for many species of wildlife, from prairie dogs to bison. Historically, grasslands were North America's most extensive biome, but today most of the prairie has been altered by agriculture or development. As part of its preservation efforts, the National Park Service personnel manage non-native species and reintroduce native species where they have been extirpated. Learn more about how the National Park Service works to preserve biodiversity.
Last updated: June 23, 2020