Youth Camp
Since 2012, students from the Calhoun School in New York City have joined with South Dakota teens from the Red Cloud Indian School and Wall High School for a weeklong Youth Camp in March. Days are filled with hikes and activities facilitated by park rangers, resource managers, and teachers. Participants spend their nights in park housing or camping out under the stars.
Watch the series of six videos below to discover what made the Youth Camp such a transformative experience for the teens and adults who participated.
Transcript
I think it's important for people to appreciate the other parts of the world and how important the Badlands are and the national parks we have. How much they've brought to us, the history they hold in our country and in the world.
Hi, my name's Chris. One of my dreams would be to get everybody out here and kinda have life and just move life from the city to the Badlands because it's been such an experience. And the first thing I'd probably tell them is about the people. Having the park rangers with us has been great because they're so knowledgeable and they're so passionate. On the first night we were here with the Red Cloud kids it's been cool and I've really appreciated learning more about their culture. It's been kind of a cool experience and Russ, their teacher, has been very informative and it's really added to the experience.
Hello, I'm Matthew. Places like Badlands are much, much different than New York City and any other big city. It's not only the space, but the quietness, the people--it's a completely different culture. You come here and you're amazed at everything.
My name is Mikiel. In the Badlands I've learned to just kind of let go of busy city life in New York and learn to enjoy a different environment. I think coming to Badlands National Park is really important for people who live in urban environments. Being out here in the Badlands I've kind of had to just make do with what we have. Living in Manhattan, sometimes I feel like things are catered to me--like there's a store a block away or two blocks away I can get whatever I need living in a city when it comes all easy sort of. It's, you're not getting that full human experience of living on your own. Come out here and see the natural beauty.
Visit our keyboard shortcuts docs for details
Duration:

2 minutes, 21 seconds
Students from the Calhoun School in New York City describe the relevance of Badlands National Park for urban teens. "It's not only the space, but the quietness, the people--it's a completely different culture. You come here and you're amazed at everything," says Matthew.
Transcript
I was told by one of my elders that the Lakota name for the badlands is makoche sica. They were a place of refuge during the mid to late 1800's. 
My name is Russ Cournoyer.  At the present time I work at Red Cloud Indian School as a spiritual formation teacher.  I primarily teach, basically, Lakota spirituality. The local kids here from Pine Ridge interacting and meeting with the small group of kids from the Calhoun High School in New York City. Coming together for a few days, hiking in our sacred lands, and hearing these stories and teachings, you know, about our land and our culture, a little bit about our language--I see the kids from New York City to be somewhat fascinated with what they're seeing and what they're hearing and then actually being here with a few of the Oglala or Lakota kids who came from Red Cloud High school to spend this time together.
(Kristian:)
Me, Harlen and Cody we took, uh, Chris or Bernie to the top of the butte near the camp area. And we actually bonded a little bit there 'cause we had our chances to help each other.
And when we got to the top we actually sat up there for almost, felt like, half an hour before we actually wanted to get back down.  It was a beautiful sight.
(Russ:)
And I think that, just that simple thing in and of itself is very powerful and it's helping our kids to understand and realize there are, you know, people of other colors and nationalities and ethnic backgrounds and languages that exist and live out there in this country and throughout the world.  It's helped them to realize and understand that, you know, we're all human.
Visit our keyboard shortcuts docs for details
Duration:

2 minutes, 27 seconds
Russ Cournoyer, the spiritual formation teacher at Red Cloud Indian School, and student Kristian talk about the connections between people from different cultural backgrounds that came out of the Youth Camp experience.
Transcript
The National Park Service tells the stories of the American people, and to do that, and do it effectively, we need to make sure that all of the American people are engaged. Not just with the parks as visitors, but as employees, as rangers, as the people who go out and share and actually share the mission and share these stories, their own stories, with the American people and people from around the world.
My name is Jennie Kish Albrinck and I'm the chief of interpretation and resource education at Badlands National Park.
Our enabling legislation focuses very much on the fossil resources in Badlands. In addition in being able to walk across the landscape and look down and almost see the fossils melting out of the ground at your feet, we have many other resources that we teach about and protect in the Badlands.  Bison, swift fox, black-footed ferret, many type of native plants, but in national parks we don't just look at the natural environment, we also look at the history, the stories of the people. The idea of hosting a Badlands Youth Camp came to us as a seed, as an idea of something that we could do, right now, to be proactive and get students from many different cultures, many different places in the country, together, to experience the wilderness of the Badlands, while sharing their own cultures and learning about local culture.
When we think about our significance as an agency, as a National Park Service, we have to look beyond our boundaries, not just inward. When we think about our significance to the future, we have to look at those who will come and visit the parks, and support the parks, and manage the parks in the years to come. We have to look at the children of today, the students of today, who may visit the park for the first time with a school group, or on a camping trip with their parents, and find out how to engage them and make the park relevant to their experiences. It's only through that that we can remain relevant in the coming years.
Visit our keyboard shortcuts docs for details
Duration:

2 minutes, 29 seconds
Badlands National Park Chief of Resource Education Jennie Kish Albrinck reflects on the significance of the Youth Camp as part of the larger National Park Service mission. She sees the Youth Camp mission as a great way to help teens from different backgrounds "to experience the wilderness of the Badlands, while sharing their own cultures and learning about local culture."
Transcript
I'm very much a city kid.  I grew up in the suburbs, but I went and visited my grandparents in Brooklyn all the time, and I fell in love with the city.
To talk about where this began, briefly, you need to go back to 2003 actually, when I was a poet in residence at the Badlands National Park.  And it was such a profound experience.  I remember on my very last day, it was sunny, it was windy, and I was standing on one of the nearby mounds.  And I remember standing out there, looking at the landscape, and saying out loud, "I am going to come back here."
My name is Gary Joseph Cohen.  At the Calhoun School, I'm an art teacher.
And then in 2012, I had made contact with Julie Johndreau and pitched to her the idea of what would it be like for me to return, but to bring back some students and maybe a couple of colleagues with me.  So when we ran it for the first time last year, it was, you know, we had eleven students from Calhoun and a few students from Red Cloud, and we came in contact with park staff and experts in the field and artists in residence and it was just phenomenal.  This is now in its second year, so we've had around twenty different New York City kids experience this program.  All different kinds of learners, all different kinds of backgrounds and perspectives.  It seems to me that this kind of experience, it's just so inclusive.  I mean, it seems to be reaching the kids who can't sit still, it seems to be reaching the kids who are full of stillness.  It seems to be reaching the kids who need and want to learn with their hands, making direct contact with the material, the materials of the world.  And it seems to be reaching the kids who are so literary, you know, and they read, they read the landscape as a kind of text, and they're making connections to the stories they're reading back in their English and humanities courses or history courses.  And it's reaching those kids who have so many languages in them, too.  It's phenomenal to see the kids just out here, and they're using words, and they're using parts of their bodies, and they're using parts of their mind in such an integrative way that I don't even recognize them sometimes when they're out here because they're just so much more fully spectral than they are when they're expected to be in a building all day.  So, to me, this is absolutely essential.
When I was in high school, I was always in the woods behind the house, and there was this stream, and in the stream were these prehistoric shark's teeth.  I was there in the dead of winter, sticking my hand in the cold stream and getting frostbite; I was there in the spring.  And I tell my students, that stream was one of my greatest teachers.  I learned so much about motion, about channeling energy.  But when I was three years old, my mother asked me, what do you want to be when you grow up?  And I said, I want to be an artist.  And she says, Well that's great, but what do you really want to be when you grow up?  I said, an artist.  And I've always wanted and I always knew I was going to be an artist.  But biology and art have always been a tandem bicycle for me.  In the Badlands, to come out here, where I can explore and discover organisms that are older than me, these resemblances and overlaps between their struggles, their challenges to stay alive, and my challenges and struggles to stay alive, and humanity's, and everything that's ever lived.  You know, it's like it's all written in these pages here, and here, I get to be a writer that I am, I get to be the photographer that I am, the biologist that I am.  The Badlands has that space.  You know that all-embracing, encompassing space that allows me to be all those different things, and just be.  And I can't even do that in the city, to be honest, as much as I love it, so I have to come to the Badlands.  I have to return.  And I'm already thinking about the next time I'm going to be here.
Visit our keyboard shortcuts docs for details
Duration:

5 minutes, 10 seconds
Calhoun School teacher and former Badlands Artist in Residence Gary Joseph Cohen describes how the wild prairie landscape affects himself and his students.  "They're using parts of their minds in such an integrative way that I don't even recognize them sometimes ... they're just so much more fully spectral than they are when they're expected to be in a building all day."
Transcript
In 2012 we started the first Badlands Youth Camp. We were lucky enough to have a group of students come out from New York City. Their teacher was a former Artist in Residence here at Badlands and he wanted to duplicate that experience for his students.
Julie Johndreau, I am the Education Specialist at Badlands National Park.
And he had a senior who was working on a project about how wilderness is so important to the human experience. The other piece was that the park, at the same time, was looking at how to involve more teens, youth, in the park, and that's actually a service-wide initiative, where the National Park Service is very actively looking at youth as a very important audience, and creating programming that is meaningful to them so they can truly experience their national parks.
Badlands National Park is located in western South Dakota and our local population of students also includes the Pine Ridge Indian Reservation and Native American students. Here at Badlands, we are very committed to building a connection with our local students. The south unit of Badlands National Park is poised to become the first tribal national park, and with that, we don't know exactly what that means, because it's never been done before, but what we do know, is that involving the youth of today in the park will translate into the leaders of tomorrow who are ready for that challenge.
Transcript
I grew up in the Minneapolis suburbs, went to college in Minneapolis, lived in the city. My grandparents lived on a retired farm in central Minnesota, flat plains, nice and open, sweeping grasslands and fields, so I grew up, you know, pushing through the corn fields in the summer, and fighting the grasshoppers, and watching the thunderstorms roll over, laying out in the middle of the night watching the Milky Way or the northern lights. I have an affinity for that, and Badlands just combines, nicely, both of those landscapes that I like. The barren, solitary, intimidating buttes, and then the prairie with the rolling grasses, understated, simple.
My name is Jessica Bryant, I am Artist in Residence at Badlands National Park.  I discovered the Artist in Residence programs at the national parks while camping at Grand Canyon with my family.  Just on paper I liked what I saw for Badlands. They offer more time than most of the parks and more freedom for what you do.  You have 4-6 weeks that you stay, and in return you do a school program, which also motivated me--I have young children and I like working with kids. 
"These are some other ideas for things you maybe would or wouldn't've thought of on your own.  But I guess my thought in doing this for you guys was a way to fit art into your experience on the go, one size fits all, you can give as much or as little to it as means something to you.  But I hope you give some 'cause this will be something you can keep from this experience forever, or you can continue to use it, if you don't fill all the pages, use it on another trip."
I work in watercolor.  I handle it a little bit different than what a lot of people like to think about with watercolor.  And, when I go to approach a piece, um, often I don't have a specific idea in mind to start with.  Sometimes I know a place that I was that I really, really need to put into a painting. Um, when I'm here in Badlands, I look at what I have for the day.  When I'm here I go on a lot of hikes.  I like to get out to some more remote areas of the park.  So after my first residency at the park I applied for and was asked to come out at the spring of 2012. Um, and then later in the summer I got a phone call from Ranger Julie offering and asking maybe I would come back in to do a school program. So we made the contacts and I ended up going down for a week, driving down to the school which is in Pine Ridge, and I taught all of the art classes, um, every day.  So I made contact with the art teacher and I camped out in her room.  And worked with all the students she had which is about half the school.  One half has art in the fall, the other half has art in the spring.  I brought a few examples of my work and brought down photographs I have taken from the south unit, but it was a really nice experience being in a classroom and having a week of time to have them settle in and get comfortable with me and start coming in with questions and stories.  It was really nice.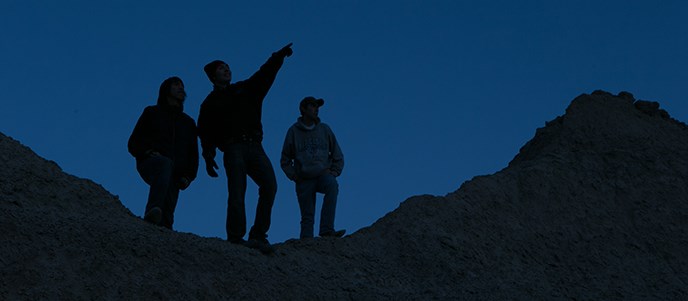 Last updated: April 10, 2015