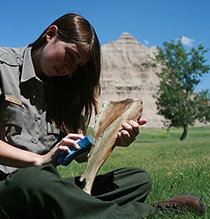 Badlands National Park is a great place for teens to visit, volunteer, or work.
Internship Opportunities
Youth from high schools neighboring Badlands National Park are invited to serve as interns during the summer months. Internships are a great way to gain work experience while learning about the many different career opportunities available in the national parks.
Older teens who have finished high school or who are enrolled in college can learn more about volunteer opportunities at Badlands or search for volunteer positions throughout the national park system.
Follow the 2014 Summer Intern Adventures Blog.