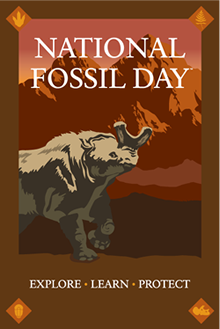 Teachers, take your students on a virtual visit to Badlands in celebration of National Fossil Day™!
Badlands National Park harbors the richest known beds of mammal fossils from the late Eocene and Oligocene. To celebrate National Fossil Day 2016, we're bringing these fossils to classrooms around the country by offering special distance learning videoconferences.
Programs on National Fossil Day itself booked up swiftly. Due to this overwhelming demand, we have added a second day of videoconference offerings on the followingOct. 11, 12, and 13. Every hour, teachers and students can use Skype or IP Connect to join a park ranger for a live, interactive program introducing the beauty of the Badlands rock layers and the fossil wonders contained within. Programs will last approximately twenty minutes and will include examples of fossils from creatures that roamed the earth millions of years ago.
Please submit reservation request forms by emailing the Park Education Specialist.
Part of Earth Science Week, National Fossil Day is a celebration organized by the National Park Service to promote public awareness and stewardship of fossils, as well as to foster a greater appreciation of their scientific and educational value. 2016 marks the seventh annual National Fossil Day. Events are organized at fossil-bearing sites around the country. For more information, please see the main National Fossil Day website.