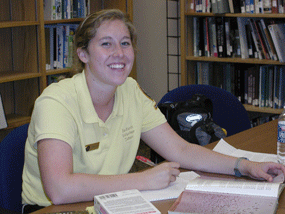 Badlands National Park is seeking interns to spend 13 weeks volunteering in the park as summer naturalists. Duties include preparing and presenting walks, talks, evening programs, and children's programs to the visiting public on the natural and cultural resources of the park.
Interns staff the Ben Reifel Visitor Center information desk and rove park trails and overlooks, providing information and assistance to park visitors. Interns also complete a variety of writing assignments and office projects, depending on summer needs.
Learn more about the position's duties and application requirements by viewing the Summer Naturalist Internship Announcement (663 KB, Word document). The application deadline is February 15, 2008. For further questions, feel free to contact Volunteer Program Coordinator Roberta Gorman at (605) 433-5244.