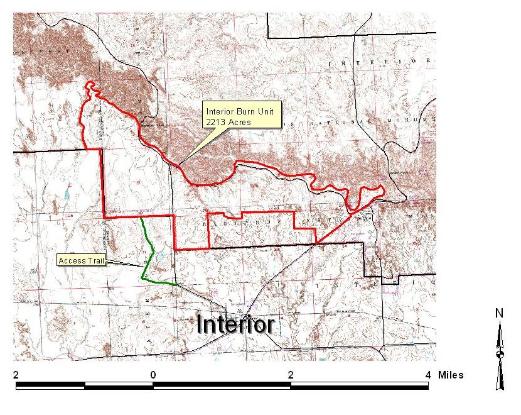 News Release Date:
August 31, 2010
Contact: Brian Kenner, 605-433-5260
BADLANDS NATIONAL PARK, Interior, S.D. — Fire crews from Badlands National Park and the Northern Great Plains Fire Office are preparing for a planned 2,213-acre burn that is expected to take place sometime between September 7 and mid-October. Fire managers will select a day when conditions are favorable for safe burning and sufficient staff is available. The burn location is along the south side of the Badlands Loop Road (Highway 240) near headquarters at Cedar Pass and north of the town of Interior (see map). The goal of the burn is to restore the natural process of fire to the prairie ecosystem and to reduce the build-up of dead and dried fuels.

Prescribed fires are carefully conducted under approved conditions. Factors such as humidity, fuel moisture, wind speed and direction, and forecasted weather are all considered in establishing the acceptable conditions for conducting a prescribed fire. If the prescribed set of conditions does not exist, the planned fire is postponed.  

-NPS-