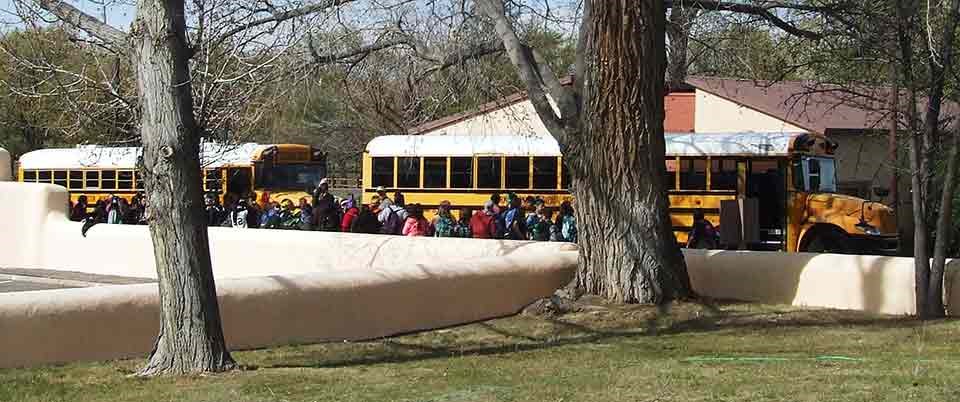 Self-Guided Field Trip:
Field trips are always welcome at Aztec Ruins. All field trips are entirely teacher-led, but Aztec Ruins can assist with educational resources to be used during your visit here.

What's Here:
Aztec Ruins National Monument is the keeper of an ancestral Pueblo great house, standing three stories tall with over 400 rooms. The central plaza features a reconstructed Great Kiva.

The Visitor Center has museum exhibits and a 15-minute park film. The bathrooms are located on the front porch of the Visitor Center, and any educational materials pre-arranged for field trip checkout (traveling trunks, teacher-trail guides, etc) will be waiting on the back porch.

Logistics:
There is a bus unloading area, and bus parking. We request that teachers have one adult/chaperon for every ten students. Two hours is usually enough time for the visit itself (for 1-3 classrooms); more time should be scheduled for lunch in the picnic area. The video room can accommodate a maximum of 30 students and the video plays every half hour. Teachers and chaperons are responsible for directing their groups during the visit.

Recommended Activities for Group Rotations
45 minutes on the trail: Take a teacher-guided tour of the archeological site with chaperons using the trail guide. Several types of trail guides are available for different age ranges.

45 minutes in the Visitor Center: Watch the 15 minute video, tour the museum (new I-Spy activity available), and take a bathroom break.

45 minutes in the picnic area: a teacher-guided educational activity

Replica Artifact activity (reserve a traveling trunk)

Walk the Old Spanish Trail (1/4 mile one-way)

Old Spanish Trail activity (reserve a traveling trunk for replica items)

Check out the Education Portal for lesson plans from related sites
Online Field Trip Scheduling: (NEW!)
View our online schedule and create a field trip request
using our new online system! If you have additional questions, email azru_education@nps.gov or call us at (505) 334-6174, x232.
Educational Fee Waiver Application:
If you represent an educational or scientific institution, you may be eligible for a waiver of entrance fees for adults over 15 years old (children 15 and under are free). You may download the fee waiver application below or email us for more information. Groups of students age 15 and under do not need a fee waiver.

Bringing 4th Grade Students: A new park pass is now available to 4th grade students nationwide! Students who bring their paper vouchers can exchange them for their "Every Kid in a Park" pass during their field trip. Visit everykidinapark.gov for details on how classrooms can participate.