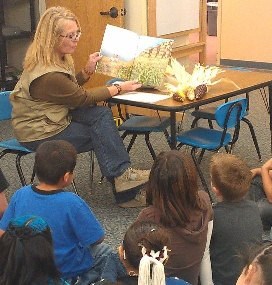 Aztec Ruins park rangers can come to your classroom with a standards-based educational presentation! Each program will have a ranger-presentation, an in-class activity, and optional pre-visit and post-visit activities for teachers to lead in-class. Depending on ranger availability, we can come to any educational setting (including non-traditional learning groups) within a two-hour one-way driving radius of Aztec, preK-12. Activities are designed for one classroom per presentation. Contact us to request one of the following presentations!
2017-2018 Ranger Presentations
(NEW!) Timeline Activity (4th-12th) This inquiry-based activity will feature the student creation of a timeline that layers ancestral Pueblo history amidst neighboring cultures and concurrent events in World history. Note: a large will or a hallway will be needed for this activity.
Ancient Cultures of the Southwest (2nd-12th) People have been living in New Mexico for 10,000+ years! Learn about the different cultures that have lived in the Southwest and how each culture adapted to their environment.
Careers in the National Parks (6th-12th) What is the National Park Service? To prepare for a career as a caretaker of America's national lands, each Park Ranger needs skills, experience and education.
Corn is Life (preK-3rd) Use a Corn Maiden story to compare how Pueblo people of the past value corn and how the lifecycle of corn is similar to our own lifecycle. Each community is important!
Echoes of the Past - Music of the Ancestral Pueblos (1st-5th) Experience ancestral Pueblo history with musical instruments, songs, stories and a dance.
Every Kid in a Park (4th) Learn why National Parks and other public lands exist, what they protect, and what you can do when you visit them! This program will fulfill the requirements for students to get their paper vouchers for free public land access for their 4th grade year. Vouchers can be exchanged for the passes on an upcoming field trip or family visit to any National Park.
In the Garden, In the Wild! (1st-12th) The ancestral Pueblo people ate a wider variety of foods than you might imagine! Introduce your students to "ethnobotany" - the connection between people and plants.
Pueblo Games (1st-12th) Learn about ancestral Pueblo culture while playing modern Pueblo games! Outside space is preferred, gym space works too.
Reading Ranger (preK) Experience history through reading a story with a ranger and a craft.
Talking Trash (3rd-12th) How are the ways we deal with trash today different from 900 years ago? This program connects ancestral Pueblo stewardship with our responsibility to take care of Earth today.