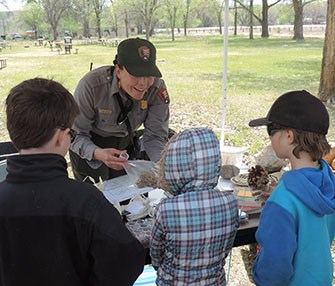 The eighth annual Earth Day Celebration at Aztec Ruins will be Saturday, April 23, 2015 from 10:00am to 2:00pm. Entrance to the monument, event, and all activities are free.
Aztec Ruins National Monument invites everyone to participate in the annual Earth Day Celebration with exhibits, crafts, and activities for all ages! The National Park Service is a national leader in environmental stewardship, and Aztec Ruins is an ideal place to discover ways each of us can reduce our impact on the environment. We can learn from the lifestyles of our ancestors and explore new technologies. Park staff partners with other land management agencies, environmental groups, local businesses, and community organization to present activities and interactive displays.
Visitors have the opportunity to visit with local experts and learn about current sustainable development technology, land and water conservation, alternative energy and fuels, and sustainable agriculture. Some of the activities involve learning about the original green buildings and shaping adobe blocks, playing recycling games, using a solar telescope, and much more.
There are approximately thirty booths and activities for visitors to enjoy in addition to touring the archeological site and museum.