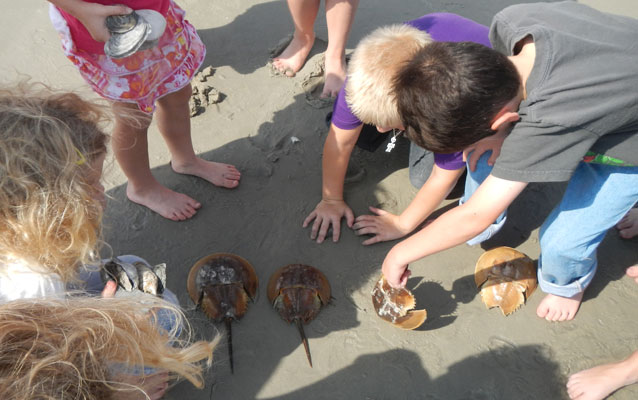 Description
This is a 1-hour program. Rangers meet the class at North Ocean Beach and begin the program with a brief orientation and safety message. During the short walk to the beach, students look for signs of wildlife, note changes to the landscape and discuss the needs of plants and animals.

Once on the beach, the shoes come off and the rangers begin a variety of activities to keep the children engaged in this distracting environment. Kid's love to dig and rangers channel this enthusiam into a hole digging activity. The holes are then used as geologic windows into the beach's stormy past. Each layer of black magnitite illustrates a storm and opens the subject of geology and earth science to discussion.
Students role play being ghost crabs or sand grains to learn about predator and prey relationships and island roll over. Students are always given a few minutes of free time to run and explore the beach and collect treasures for a group show and tell. If the water is warm enough and with teacher permition, students undertake the always popular mole crab search. 
Students should wear cloths that can get wet and sandy. We strongly recommend students bring a change of cloths, towel and sunscreen.
Contact
Jay Johnstone
410-629-6607
Details
Subject:

Aquatic Studies, Biodiversity, Biology: Animals, Conservation, Earth Science, Ecology, Environment, Geography, Geology, Marine Biology, Oceanography, Oceans

National/State Standards:

NGSS:
2-LS2 Ecosystems: Interactions, Energy, and Dynamics
2-LS4 Biological Evolution: Unity and Diversity
2-ESS2 Earth's Systems
3-LS2 Ecosystems: Interactions, Energy, and Dynamics
4-PS3 Energy
4-ESS3 Earth and Human Activity


Keywords:

marine biology, wildlife, adaptations, geology, earth science, oceanography

type:

Field Trips