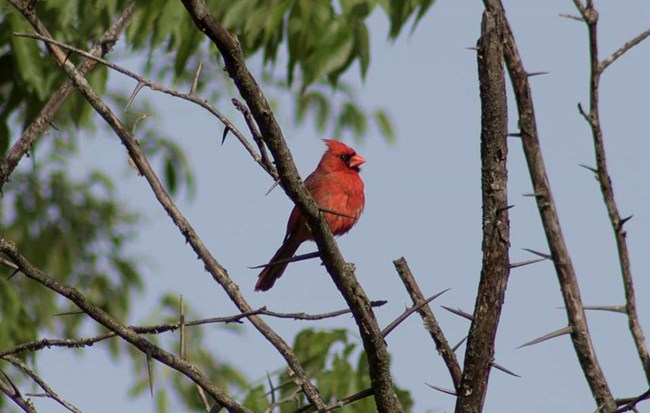 Birds intrigue and excite visitors, having become an important part of park interpretive programs. Beyond the pleasure that birds provide, they are a significant component of park ecosystems. Their high metabolism and position in the food web make them indicators of change in an ecosystem – the canary in the coal mine, so to speak. Preserving habitat for the wellbeing of bird populations preserves entire ecosystems for the benefit of all species.

The Heartland Inventory and Monitoring Network monitors change in bird community composition and bird abundance to determine the health of bird communities. They accomplish this by surveying seasonal and year round resident birds in the park during the breeding season, and measuring habitat structure and composition to assess habitat integrity. Together, these data contribute to assessing responses of bird communities to changes in their habitat. Trends in bird communities across the larger Central Hardwoods Bird Conservation Region are reported so that local trends can be compared to regional trends. Since 2008, surveys provide data on populations and breeding habitat of birds in the park.

Scientists recorded 115 bird species during May-June site visits in the nine years after initiating monitoring. Ninety-seven of those species are considered breeding birds because they are permanent or summer residents to the park. Seven breeding species are considered species of concern for the Central Hardwoods Bird Conservation Region, the North American Bird Conservation Initiative's region in which the park is located – Bell's Vireo, Bewick's Wren, Henslow's Sparrow, Kentucky Warbler, Prairie Warbler, Red-headed Woodpecker, and Wood Thrush. The most commonly recorded species at the battlefield include Blue-gray Gnatcatcher, Indigo Bunting, and Northern Cardinal. Additionally, scientists have found that:
Eighteen species observed in sufficient numbers to calculate annual abundances and trends with some degree of confidence had uncertain population trends within the park.