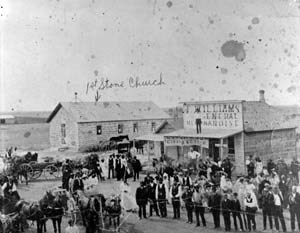 Fleeing from new forms of oppression that were emerging in the post-Reconstruction Era South, a group of African American settlers established the community of Nicodemus on the windswept plains of Kansas in 1877. Here they began turning the dense sod, building homes and businesses, and forging new lives for themselves. Established as an all Black community, the founders of Nicodemus envisioned a town built on the ideals of independence and self-determination. The community experienced rapid social and economic growth in the early years and many speculated that Nicodemus would become a major stop for the railroad. It became clear by 1888, however, that the railroad and the predicted economic boom would not come. This did not mark the end of the great experiment that was Nicodemus. Although the population of the town itself dwindled to only a few dozen souls, many African American families stayed in the area, settling on farms in the surrounding township. From this time onward Nicodemus became a community of primarily Black farm families.1 This living community is the only remaining all Black town west of the Mississippi River that was settled in the 1800s on the western plains by former slaves.
The U.S. Congress, recognizing the importance of Nicodemus' contribution to America's history, enacted legislation establishing Nicodemus NHS as a unit of the NPS in November 1996. The legislation directs the NPS to cooperate with the people of Nicodemus to preserve its five remaining historic structures—First Baptist Church, African Methodist Episcopal Church, St. Francis Hotel, the First District School, and Nicodemus Township Hall, and keep alive the memory of the many roles African-Americans played throughout the American West.
Nicodemus NHS preserves, protects, and interprets the only remaining western town established by African Americans during the Reconstruction Era following the Civil War. The town of Nicodemus is symbolic of the pioneer spirit of African Americans who dared to leave the only region they had been familiar with to seek personal freedom and the opportunity to develop their talents and capabilities. The site was named for a legendary African-American slave who purchased his freedom.
In May and June 2006, students, under the guidance of Dr. Margaret Wood, Washburn University, conducted archeological testing on the Thomas Johnson/Henry Williams farm site (14GH102), located approximately four km north of Nicodemus, Kansas. The objective of this research was to identify and explore archeological sites related to the settlement period and early occupation of Nicodemus.
Thomas Johnson, one of the earliest settlers to Nicodemus, homesteaded a piece of land just outside of the town of Nicodemus in 1878. He and his extended family farmed the land and adjacent properties for over a decade. Johnson's grandson, Henry Williams continued to farm Johnson's original claim until the middle of twentieth century and the property is still in the hands of a close family member. This farm became the focus of archeological investigations during the 2006 field season.