The NPS Celebrates Successful Completion of Air Tour Management Agreements at Glen Canyon NRA and Rainbow Bridge NM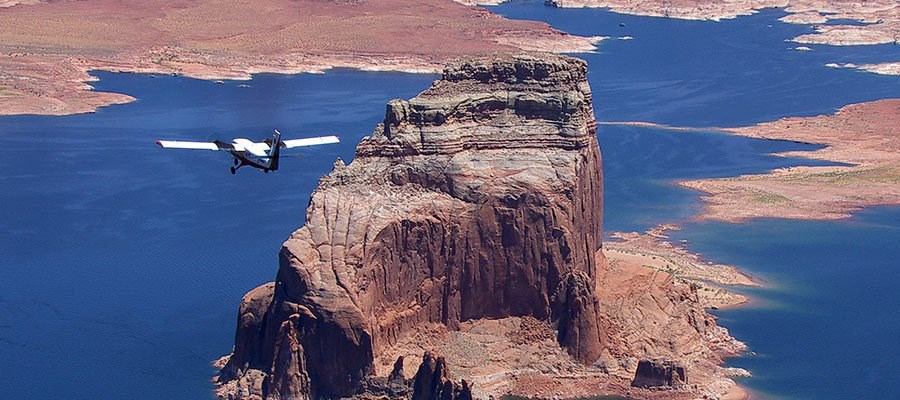 Soaring 2,000 feet above amazing rock formations and breathtaking water features from the seat of a small aircraft above a national park can be a thrilling experience—and air tours above Glen Canyon National Recreation Area and Rainbow Bridge National Monument are no exception. Spanning 1.25 million acres along the Colorado Plateau, the park and adjacent monument are home to Lake Powell and Colorado River tributaries, outstanding red rock mesas and arch formations, cultural heritage sites, and a wide array of desert-dwelling plant and animal species. Air tours offer a different view of national parks. Low flying commercial air tours however can also detract from views of the spectacular scenery people come to national parks to experience.

The sounds of nature are also among the various resources and values preserved by the National Park Service and are routinely cited as an important reason for visiting national parks by visitors. While air tours can be an exciting way to see a park, because they fly relatively low, they often are noisy and can have significant impacts on the park below, from noise sensitive wildlife to visitors seeking to get away from the clamor of everyday life or Native American tribes performing sacred rituals. Therefore, the NPS, Federal Aviation Administration (FAA), and seven air tour operators recently completed air tour management agreements for Glen Canyon and Rainbow Bridge that guide how air tours will be managed over the two parks using best practices to support air tour operations, wildlife stewardship, cultural values and tribal relations, wilderness character and values, and recreation at Lake Powell.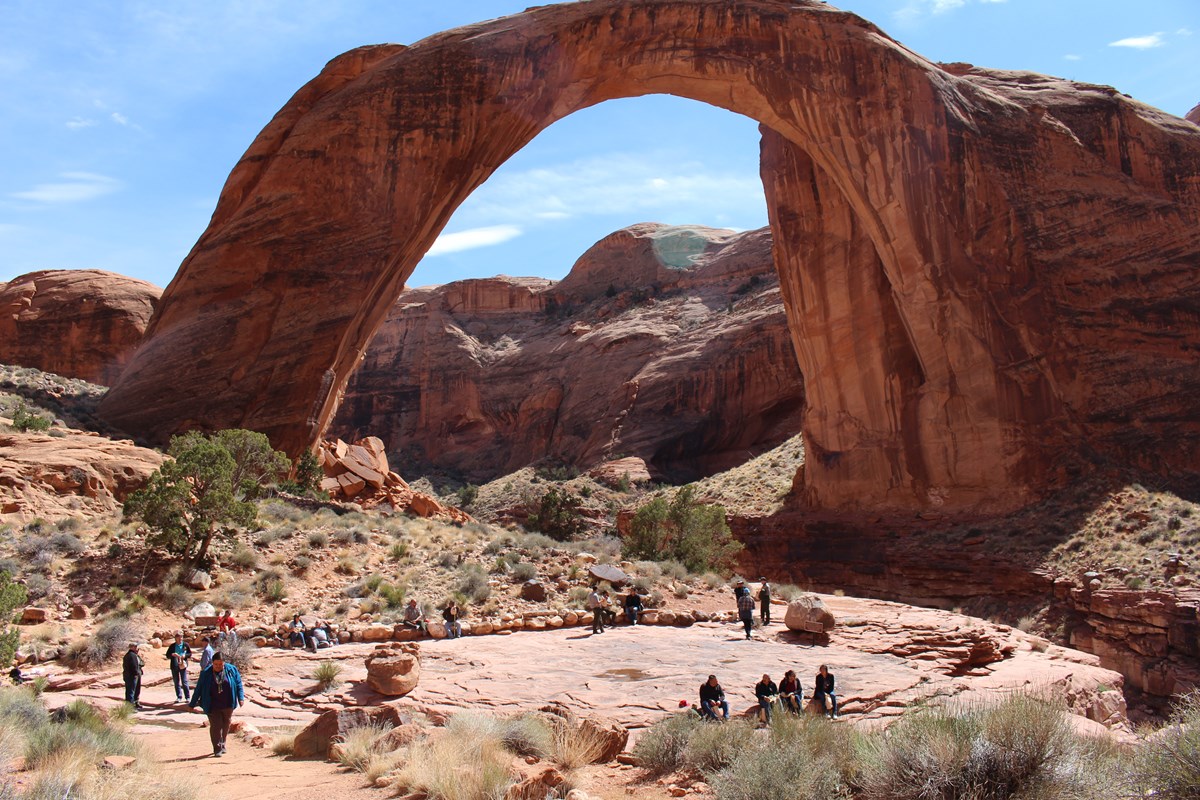 Native Communities
In 1910, President William Howard Taft designated Rainbow Bridge as a national monument because of its unique geology and cultural significance. Navajo, Hopi, San Juan Southern Paiute, Ute Mountain Ute, and Zuni tribes all share historical ties to the area. Believed to be a sacred living entity, the 200 million-year old Navajo sandstone formation is a central landmark to their customs, with ancestral traditions dating back more than one thousand years. Prayers, songs, storytelling, and other ceremonies take place here year round.

Native American representatives who participated in the agreement process expressed concerns that the steady flow of air traffic and noise invades their sense of privacy and belonging, disturbs the peaceful and sacred nature of the bridge, and could result in long term physical damage to the bridge. The NPS worked with geologist Dr. Jeff Moore (University of Utah) using seismic sensors to measure how the bridge resonates when stimulated by wind or vibration in order to predict impacts from air tours. Informed by their findings, the agreement includes measures to offset potential risks and give Native Americans and visitors on the ground opportunities to experience the solitude and reverence of this hallowed place by reducing air tour noise.

"The findings reveal what Native Americans believed all along," said Tim Begay, Navajo Cultural Specialist with the Navajo Nation Heritage and Historic Preservation Department. "The arch is alive and, like people, needs occasional rest from noise and activity."
Recreation
A sparkling blue jewel set within a red bedrock basin, Lake Powell is a popular recreational destination. With full service amenities such as marinas, launch ramps, campgrounds, and day use areas, more than 4,574,940 people each year use the lake's waters, shorelines, and canyons for boating, camping, swimming, and other outdoor recreation. Fortunately, boat noise does a good job of masking airplane noise, and therefore more than 95% of Glen Canyon air tours take place over Lake Powell, thus minimizing noise over the miles of colorful buttes, mesas, canyons, and cliffs to preserve its wilderness characteristics and enhance backcountry recreation.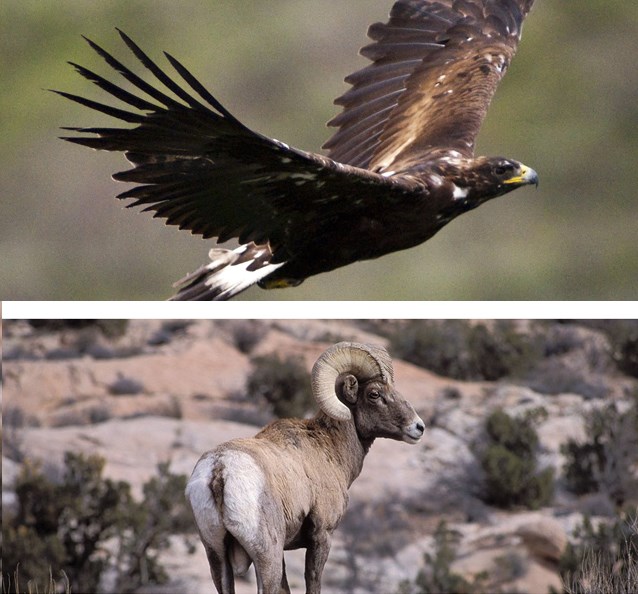 Wildlife
Golden eagles are among the diverse wildlife living in the desert ecosystems of the Colorado Plateau. With nests built on sheer cliff ledges and high mesas for hunting grounds, the birds can be easily spooked by low flying aircraft.

"Eagles don't like to be surprised," said John Spence, chief scientist for Glen Canyon NRA. "If an aircraft appears suddenly or too close, they can flush from the nest potentially causing damage to their eggs or injury to their young. Close flying helicopters are more of a concern than fixed-wing aircraft. As long as the aircraft does not get too close to the nest, with a suggested buffer of about ¼ mile, impacts to eagles should be minimized."

Spence said that desert bighorn sheep are similarly affected during lambing season. The Air Tour Agreement helps protect golden eagles and big horn sheep populations by routing flights away from sensitive areas during the late winter-early spring season.[i]
[i]
(
Kochert, M.N., K. Steenhof, C.L. McIntyre and E.H. Craig. 2002. Golden Eagle (Aquila chrysaetos). In Birds of North America, No. 684. A. Poole and F. Gills (eds.). The Birds of North America, Inc. Philadelphia, PA)
Behind the Scenes
Since 2012 the NPS has worked with air tour operators and the FAA to develop agreements for managing air tours over national parks, including Glen Canyon and Rainbow Bridge. The NPS Natural Sounds and Night Skies Division (NSNSD) coordinates implementation of the National Parks Air Tour Management Act with the FAA, including the negotiation of air tour management agreements in order to develop specific parameters for air tours such as re-routing flights during sensitive times of the day and year, flying at a minimum altitudes and distances from certain areas or park features, and the number of air tours allowed per year.

"From a Washington perspective, the air tour agreements for Glen Canyon and Rainbow Bridge are an outstanding example of how working together, parks, regions, and Washington program offices can successfully collaborate with industry, tribes and other federal agencies to ensure the continued protection of national park resources and visitor enjoyment." according to Karen Trevino, NSNSD Chief. "This negotiation was incredibly complex and tenuous from the onset. Superintendent Billy Shott and NSNSD Overflights Program Manager Vicki Ward were instrumental to its success, demonstrating exemplary leadership and negotiating skills that resulted in a win/win for everyone involved."

It took a team of people for the agreement to "take flight." Seven different air tour companies, NPS WASO, regional office and park staff, seven federally recognized Native American Tribes, the Federal Aviation Administration, and university researchers were among the groups involved. Each played an important role and brought different perspectives and skills to the table.

"Any negotiation takes patience and an open mind to learn views different from your own," said William (Billy) Shott, superintendent of Glen Canyon National Recreation Area and Rainbow Bridge National Monument. "I am thankful to the Natural Sounds and Night Skies Division for facilitating the air tour agreement process, and to all the participants for taking the time to share ideas and listen. As a result, a level of trust developed, individuals moved from awareness to understanding, and big picture solutions became clear. This type of collaborative approach and outcome is what makes me proud to be a public servant and work for the NPS."
Aircraft noise models and other tools developed by the NSNSD helped the parties understand how changes in routes, altitude, time of day, and frequency, could be used to reduce impacts from air tours to noise sensitive areas in the parks. According to Ward, the NSNSD Overflights team did an exceptional job conveying highly technical acoustic information in a way that everyone could understand in order to facilitate the decision making process.

"The Glen Canyon-Rainbow Bridge Agreement is a successful example of what the NPS, Federal Aviation Administration, and air tour operators can accomplish through a respectful negotiation process that addressed complex natural resource and visitor experience issues and tribal concerns," Ward said. "We are hopeful that this agreement process will serve as an example for developing other park agreements as well."

Ward emphasized that the NPS recognizes the air tour operators who participated as making an important contribution to the Park Service mission. Among the various stakeholders, Grand Canyon Scenic Airlines is one of seven air tour operators who participated in signing the agreement. Alan Stephen, vice president of the company, has worked with the NPS for 30 years to address air tour issues over national parks. Stephen has also spent most of that time as a pilot conducting air tours over national parks.

"People are awed by the beauty of this place," he said. "The architecture of the land below and the way the blue lake meets the vast sky and orange cliffs is striking. Passengers connect to the special qualities of this remote place."

Ultimately, it was this connection that Stephen said helped the other operators relate aircraft noise to park protection goals. "Air tour operators understand the significance of this protected area," he said. "We want to give our passengers safe and enjoyable experiences while being respectful of wilderness, wildlife, visitors, and Native Americans with ancestral ties to this place."
Related References
NPS Natural Sounds and Night Skies Division: nsnsd_programinfo@nps.gov
Last updated: September 21, 2018