Richmond City: Tredegar Ironworks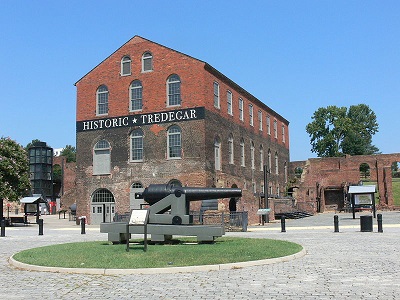 The Tredegar Iron Works is a historic iron works plant in Richmond. It opened in 1837. A group of Richmond businessmen and industrialists sought to capitalize on the Transportation Revolution. Led by Francis B. Deane, Jr., the group hired Rhys Davis to construct a new facility. Davis and his fellow ironworkers from Tredegar, Wales constructed the furnaces and rolling mills. The foundry was named in honor of the town of Tredegar.
By 1860, Tredegar was the largest facility in the South. It played a significant role in the decision to relocate the capital of the Confederacy from Montgomery to Richmond. The facility produced iron plating for the first Confederate ironclad warship, the CSS Virginia. It also produced 1,100 artillery pieces during the war. This is about half of the Confederate's total domestic production. Tredegar also manufactured railroad steam locomotives. As more and more men joined the Confederate armies, Tredegar experienced a shortage of skilled workers. Manufacturing output was also hurt by scarce supplies. In 1861, the initial quantity of metal was so low that the iron works failed to produce a single piece of artillery. Union Brigadier General Anderson ordered 50 armed guards to protect the facility after the Confederates left Richmond. He wanted to protect the facility from being destroyed by Confederate soldiers who were ordered to burn the munitions and industrial warehouses. As a result, the iron works is one of the few Civil War era buildings that survived the burning of Richmond. Tredegar began producing again by the end of 1865. By 1873 it employed 1,200 workers and was a profitable business. Unfortunately, the Panic of 1873 hit the company hard. Financing difficulties make it hard to transition to steel production, and the iron works went out of production.
Tredegar Iron Works was listed on the National Register of Historic Places on December 22, 1977. Today, Tredegar serves at the main visitor center for the Richmond National Battlefield Park and as a private museum, the American Civil War Center at Historic Tredegar. It is located at 470 Tredegar St. Richmond, Virginia 23219. For more information, please visit: Visit Tredegar or call: (804) 819-1934.
Last updated: August 18, 2017