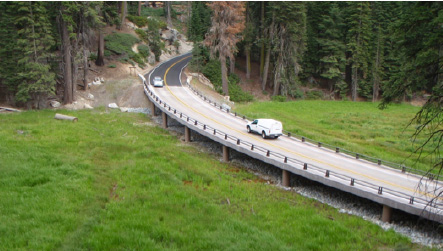 DSC is committed to leadership in sustainability practices. Transportation and travel within our national parks is an inextricable element of visitor experience and enjoyment, and resource protection. The Park Service strives to achieve sustainable management of all facilities and operations including approximately 16,000 miles of roads, bridges, tunnels, paved trails, and numerous alternative transportation systems.  As green infrastructure rating systems have developed and grown in use, so has the NPS interest in capturing existing sustainability practices and encouraging innovations in sustainable transportation. All DSC-managed transportation projects meet federal sustainability requirements, and are designed and constructed in compliance with the NPS Innovative and Sustainable Transportation Evaluation Process (INSTEP) Guidance (Draft)
DSC maintains the NPS INSTEP Checklist (Beta Version spreadsheet download) which assists project teams in tracking, understanding, and complying with sustainability standards throughout the design and construction process. The sustainability checklist is organized around the INSTEP categories and criteria, and identifies federal requirements. It is used for both DSC delivered and Federal Lands Highways (FLH) delivered NPS transportation projects. It is designed to track progress throughout the project's life cycle.
For those utilizing the Beta Version of the INSTEP Checklist and Guidance we ask that you complete this brief survey and provide any additional comments that may help improve INSTEP. 


Quick Start Steps for INSTEP Design and Construction Checklist (beta version)