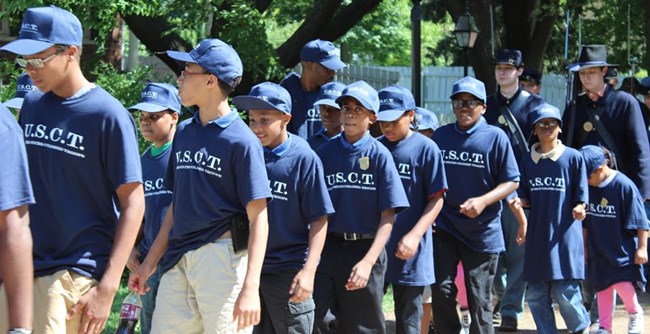 1. Historical and civic education can be one and the same.
With every class, the SYLA has students look to the past to understand the present. In exploring the histories of the 18th, 19th, and 20th centuries, SYLA students reflect on how their values and actions both resonate with the past and shape the future.
2. There are many ways to tell a story.
Though founded on President Lincoln's legacy, SYLA organizers know that his beliefs about integrity and courage resonate beyond the Civil War. The leadership academy thus devotes each year to a different time and theme, covering a range of topics from Reconstruction to baseball.
3. Historical research informs more than texts.
Spirit of Lincoln relies on a variety of media and activities to educate its students on the process and power of history. Through walking tours, film screenings, and public discussions, students learn how individuals and events come together to form a narrative and how history is at work in the present day.
4. Collaborations between parks and the community make for dynamic historical experiences.
The SYLA values its partners both in the NPS and with neighboring communities in Illinois, Missouri, and beyond. They make it possible for students to reflect on the past through first-hand encounters with historically rich spaces. Since its founding, the academy has hosted students in sites like the Jefferson National Expansion Memorial in St. Louis and the Springfield, Illinois, African American History Museum.
5. There are few narratives without conflict or struggle.
President Lincoln's legacy is celebrated for its determination and virtue, but also shines a light on struggle. In that vein, the SYLA works to remind students of the sacrifice, conflict, and even violence that underly our nation's history.
Spirit of Lincoln Youth Academy Video: "I Am America."
Back to the History Discover Events Gallery
Back to the Series: Best Practices for History Lessons and History Discovery Events.