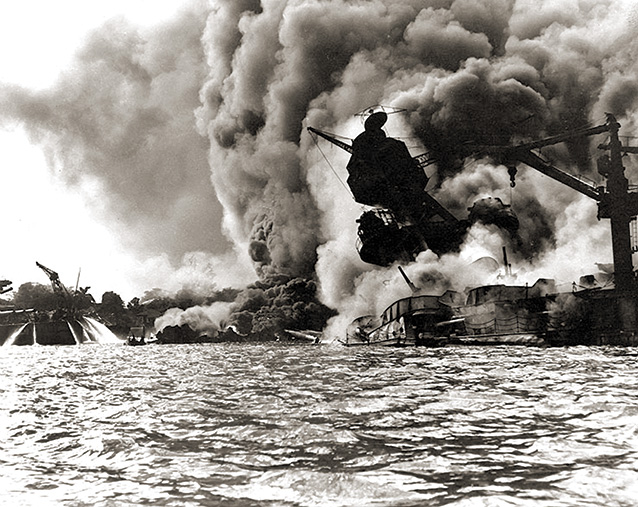 On 7 December 1941 the Empire of Japan carried out a surprise aircraft carrier strike on the U.S. naval base at Pearl Harbor.  At the outbreak of the War, Japan controlled all of Micronesia with the exception of Guam and Wake Islands, both of which were U.S. possessions.  Rapid advances by Japanese Army and Navy forces saw the occupation of large sections of the Western Pacific. 
U.S. counterstrikes on Japanese installations in the Pacific highlighted to the Japanese  shortcomings in their defensive strategies.  Hitting closer to home was the Doolittle raid of 18 April 1942, when carrier-launched B-25 medium-range bombers attacked Tokyo and other Japanese centers.  The raid served several purposes, and while the actual damage was low, the attack reinforced Japan's interest to capture Midway with plans to invade the Aleutians. 
The complete Japanese strategic objective for occupying the western Aleutian Islands continues to be researched and debated by historians and scholars – with views that include seeing the invasion as a diversionary action from attacking at Midway, expanding and establishing Japan's defensive perimeter, and disrupting U.S. and U.S.S.R. communications.
In a dual operation, Japanese forces moved to attack both the Aleutians and Midway.  On the 3rd and 4th of June 1942, a Japanese carrier strike force attacked the U.S. military bases at Dutch Harbor, inflicting minor physical, but considerable psychological damage.  The War had come to Alaska and the Aleutian Islands Campaign had begun.
In a simultaneous move, a Japanese aircraft carrier strike force attacked Midway.  Because U.S. intelligence had been able to break the Japanese code, U.S. carriers lay in wait.  In the ensuing naval battle (4-7 June), the Japanese lost all four carriers, while the U.S. Navy lost only one.  As a result of the defeat, the planned Japanese amphibious assault on Midway was abandoned.
Despite the defeat at Midway, Vice-Admiral Hosogaya, Commander of the Japanese Fifth Fleet and in charge of the Aleutians operation, argued that the Aleutian landings be carried out to occupy the area and prevent U.S. advances down the Aleutian Chain towards Japan.  Kiska was to be occupied until autumn.  That plan was later amended to allow for a prolonged occupation.  Japanese Naval forces occupied Kiska on 6 June and a day later Japanese Army troops landed on Attu.
Due to faulty intelligence the Japanese carriers attacking Dutch Harbor were unaware of the U.S. air bases at nearby Cold Bay and Umnak.  Untouched by Japanese attacks, these bases proved crucial in the first days of U.S. response which was quick with bombing runs.  Attempts to dislodge the Japanese from getting a foothold, however, failed, and soon became a "routine" of base development and U.S. bombing runs that was to last nearly fourteen months.