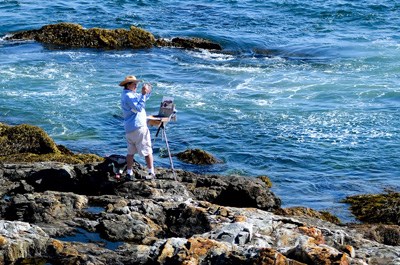 Four artists, two writers, and a composer have accepted invitations to the Artist-in-Residence program at Acadia National Park beginning in September 2018. In exchange for a two-week immersive experience, each will lead an outreach activity for the public during their stay, and donate within one year one work of finished art to the program collection that conveys a fresh, new perspective of Acadia for visitors that's drawn from their direct experience.
Natalie Andrew, Charlie Buckley, Sue Charles, and Johanna Finnegan-Topitzer were selected as visual artists; Andrea Lepcio and Kim O'Connell were selected for writing; and Rachel Panitch, a musician and composer, was selected in the at-large category.
Two of the participants, Sue Charles and Andrea Lepcio, received a further distinction, new to the program this year, as "Resident Artists." Since they both live or own property with commuting distance of Acadia, and don't require park housing, their residencies won't be limited to a two-week period, and may occur anytime during the calendar year. Due to limited housing and staff capacity, all other program participants are now invited to the park outside of peak park visitor season between June through August.
The seven new participants were chosen from the most recent open call that ended in January with more than 190 applications received from 39 states and three foreign countries. Three panels of jurors volunteered to review and narrow applications, a process that continued into April. The jurors included local artists, gallery owners, authors, and community members: Jennifer Booher, Katherine Fernald, Cookie Horner, Carl Little, Gerard Monteux and Howie Motenko. Representing park staff were Michael Marion, Marie Yarborough, and AiR program manager, Jay Elhard. The next open call is expected to open in October and close by Dec 31 for residences that will begin in September 2019.
Learn more about the program at http://go.nps.gov/AcadiaArt