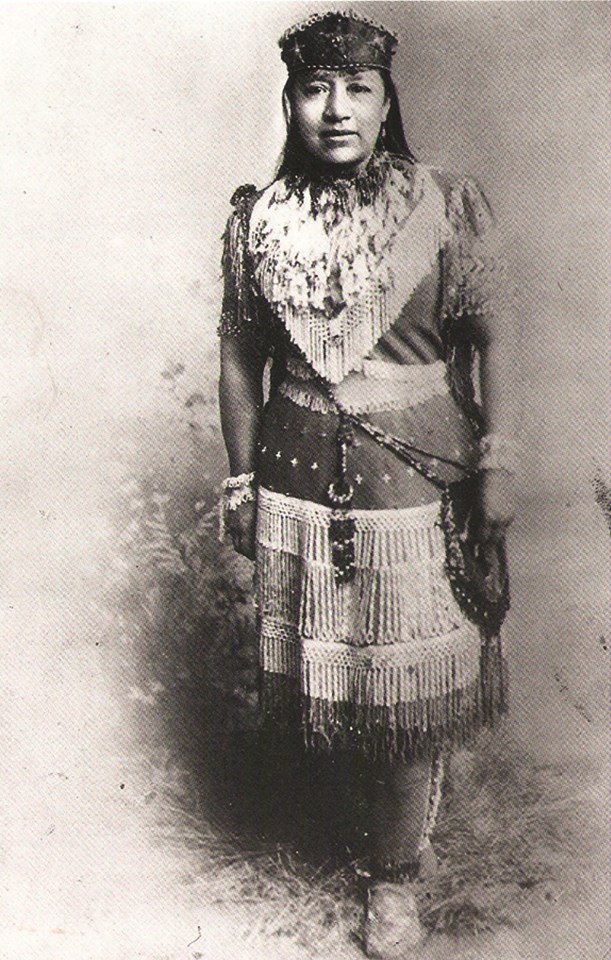 Sarah Winnemucca was born in 1844, and was a member of the Paiute tribe in present-day Nevada. Winnemucca was a skilled interpreter, and worked as both an interpreter and a negotiator between American Indian tribes and the U.S. Army during the Indian Wars of the 19th century.
Vancouver Barracks During the Indian Wars
As valued natural resources were discovered in the West, and as the population of American settlers increased, treaties made by the U.S. Government during the 1850s and 1860s assigned Native groups to reservations, some near or on their original homelands, others far from traditional sites.
Vancouver Barracks served as a place of incarceration for native people captured in the region, many of whom were resisting efforts to place them on reservations. In 1877, Chief Red Heart's band of 23 men, 9 women, and one child were imprisoned at the post's
Guard House
for 8 months. This group had aligned with the nontreaty Nez Perce, and had resisted placement on a reservation. During their incarceration, a stockade was built adjacent to the Guard House so that the prisoners could be outdoors during the day.
Even by military standards of the time, documents suggest that Red Heart's band lacked sufficient services for their basic health and safety. Two members of the group, including the child, died while imprisoned at Vancouver Barracks. Just prior to their release in April 1878 and their return to the Nez Perce reservation near Fort Lapwai, orders were given to "[i]ssue such clothing as may be necessary to make the prisoners of war cleanly and respectable. Any essential purchase for the women prisoners will be approved."
Context gives additional symbolism to the imprisonment of Red Heart's band. Vancouver Barrack's commanding officer, General Oliver Otis Howard, mentioned often that he viewed the threat of imprisoning American Indians in the post guard house as significant leverage in his councils with Yakama, Nez Perce, and other native peoples—especially those who followed the non-Christian dreamer prophet religion, which Howard deemed uncivilized. Just months earlier, Howard used the threat of Vancouver's guard house to pressure a council of Nez Perce leaders. "I showed them that Skimiah, a 'Dreamer,' leader of a small band near Celilo, was already in the guardhouse at Fort Vancouver," Howard recounted, "and that this would, doubtless, be the fortune of any other 'Dreamer' leader for non-compliance with Government instructions." Days later, he described how he responded to "saucily" answered responses from Smoholla and other Nez Perce leaders. "I then show them plainly that if they persist I will have them arrested, as Skimiah was at Vancouver, and show them that if they continue turbulent and disobedient that they will be sent to the Indian country [Oklahoma Territory]."
Sarah Winnemucca's Advocacy for Native Prisoners of War
By 1881, 53 American Indian prisoners – men, women, and children as young as three years old of the Shoshone-Bannock Tribes – were held at Vancouver Barracks. Male prisoners were made to do road work, while female prisoners sewed. In his book
My Life and Experiences Among Our Hostile Indians
, Howard wrote about this group, saying that at Vancouver Barracks "we had the opportunity of applying processes of civilization, namely, systematic work and persistent instruction to Indian children and youth."
By this time Sarah Winnemucca had become a prominent interpreter and negotiator between Native people and the U.S. Army. Winnemucca was also a prolific public speaker, and gave over 300 speeches in support of her people. In 1880, she met with President Rutherford B. Hayes and Secretary of the Interior Carl Schurz to further advocate for the humane treatment of her tribe.
In 1881, Winnemucca worked at Vancouver Barracks as an interpreter and teacher for the Native prisoners incarcerated there. In letters, several officers stationed at Vancouver Barracks while she was here spoke very highly of her, especially of her compassion towards the women and children brought to the post. Howard wrote that Winnemucca was his interpreter, and "bore a prominent and efficient part" in aiding the incarcerated people.
In March, 1881, Winnemucca wrote a plea for the freedom of the prisoners, some of whom were living in tents in all weather. She wrote that the men wished to continue to work for the military. Of the women, she wrote, "If they could only have a place, or a bit of land given them to use for themselves, yes, a place for their own benefit, and where they could work for themselves, I would teach them habits of industry, and it would help much in supporting them; and it is necessary that there should be, at least for the present, some appropriation made for them, in order to provide clothing for the women and children, and a proper place to live in."
That year, the group was released, but escorted to the Fort Hall Reservation in Idaho.
Winnemucca went on to write her autobiography,
Life Among the Piutes
[sic]
: Their Wrongs and Claims
, published in 1883 as the first book written by an American Indian woman. The book was a testimony to the mistreatment of Paiutes living on the Yakama Reservation in Washington State. She also began a school for American Indians, where she taught children in their native language and in English. She died in 1891.