PT Boats of World War II: From Home Front to Battle
Introduction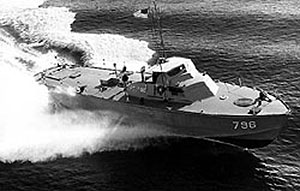 PT (Patrol, Torpedo) boats were small, fast, and expendable vessels for short range oceanic scouting, armed with torpedoes and machine guns for cutting enemy supply lines and harassing enemy forces.  Forty-three PT squadrons, each with 12 boats were formed during World War II by the U.S. Navy.   PT boat duty was very dangerous and the squadrons suffered an extremely high loss rate in the war.
From Design Competition to Home Front Production
In 1938 the US Navy sponsored a design competition to small boat builders with a challenge to create a highly mobile attack boat. Prizes were awarded for the winning PT boat designs.  Not long after the U.S. entry into the war, there were roughly a dozen separate manufacturers of PT boats from the United States, Canada and Great Britain supplying the US Navy. Eventually Elco (Elco Motor Yachts) with a factory located in Bayonne, New Jersey and Higgins Industries in New Orleans, Louisiana were the dominant two builders with Elco producing the largest number.  In the later years of the war the U.S. Navy standardized the design and construction of the PT boat. Two basic and distinctly different types of PT Boats were built for combat with the predominant PT, the 80-foot long "Elco" boat, and the slightly smaller 78-foot long "Higgins" boat.  By the end of World War II, 399 Elco PTs had been built.  Higgins built 199 or 205 PTs, depending on which figures are used.
Elco answered the call to design a PT boat by purchasing a new Scott-Paine motor torpedo boat from England and having it shipped to Electric Boat's Groton plant. Dubbed PT-9, America's first PT boat was subjected to numerous sea trials, alone and against other PTs in prototype stages. Over the next two years, PT-9 and subsequent Elco-improved PTs won a series of comparison "plywood derbies"   In 1939 Elco doubled the size of its plant and tripled its capacity in order to build PTs.  At the height of its PT boat production, Elco employed more than 3,000 men and women working three shifts a day six days a week. They produced, on average, one PT boat every 60 hours.  Along with Elco, Higgins Industries made a strong impression with its PT boats in the "plywood derbies". 
Based in New Orleans, Higgins Industries was a small boat company owned by Andrew Jackson Higgins.  Higgins built a wide array of boats.  Most World War II historians often equate the beach landing crafts used at Normandy and Iwo Jima simply as "Higgins boats". The first Higgins PT boats were used against the Imperial Japanese forces in the Battle for the Aleutian Islands and in the Mediterranean against Nazi Germany and her allies. They were used to support the D-Day landings on June 6, 1944. PT boats were used for harassing enemy shore installations, supporting friendly troop landings, destroying floating mines, sinking enemy shipping targets, destroying enemy landing barges, rescuing downed pilots, landing partisans behind enemy lines, and attacking enemy island outposts.
A Future U.S. President's tale of heroism: PT-109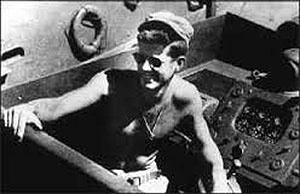 Perhaps the best known PT was skippered by Lieutenant and later U.S. President John F. Kennedy.  An 80 foot Elco boat, PT-109 was operating in the Solomon Islands in the South Pacific and joined 14 other PT boats for a nighttime ambush of 4 enemy destroyers and supply ships of Japan's "Tokyo express".   Most of the PT boat attack force fired their compliment of torpedoes and headed for home, but three boats stayed behind including the 109.  In the confusion and darkness at sea, Lieutenant Kennedy noted a vague shape approaching him.  He assumed it was a sister PT boat, but soon discovered it was a Japanese destroyer.   Kennedy attempted to swing his boat into position to fire a torpedo, but was not fast enough.  The much larger destroyer hit the 109 broadside at full speed nearly splitting the much smaller wooden boat in half.   Kennedy and the survivors swam nearly 3 miles to a small island.   After a week of surviving on small islands with the help of natives, Kennedy and the 109's surviving crew were rescued by PT-157.   
The Last Surviving Elco Boat: PT-617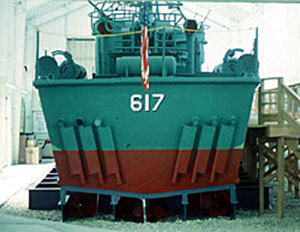 Completed and launched in the summer of 1945 by Elco,  PT- 617 was assigned to Patrol Torpedo Squadron 42. The 617 didn't see much if any combat with the war's end rapidly approaching.  She was mostly used to motivate morale on the home front with a Victory Loan Bond Drive.  After the war, the 617 was sold to a private owner and was used over the years as a yacht, as a salvage vessel and as a diving platform in Florida with the subsequent names of Big Red Cock and Dragon Lady.  PT Boats, Inc., a nonprofit organization of World War II PT boat veterans, bought the boat in 1979 and began restoration work. On September 1, 1985, PT Boat 617 went on display at the private non-profit Battleship Cove in Fall River, Massachusetts.  PT-617 was added by the National Park Service's National Historic Landmarks and the National Register of Historic Places on December 20, 1989.  
The Only Operational PT Boat Remaining: Higgins Built PT-658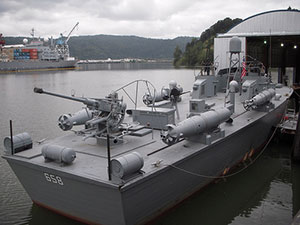 Built in 1945 by Higgins in New Orleans.  The boat was originally slated to join Squadron 45 and assigned to the Pacific Fleet, but with the war coming to a close she never saw action. In 1958, the 658 was sold to a private individual in the Oakland and Alameda, California area and renamed Porpoise.  PT Boats, Inc., a nonprofit organization of World War II PT Boat veterans, bought the boat and restored her between 1995 and 2005. PT-658 is now fully functional and afloat, and is the only restored US Navy PT Boat that is operational today. Pt-659 is floating on the north bank of the Willamette River, housed in a custom-built boathouse in Portland Oregon at the  PT-658 Heritage Museum located at the Swan Island Industrial Park.  PT-658 was added to the National Park Service's National Register of Historic Places in 2012.
Tail Ender PT-796: One of the last Higgins Builds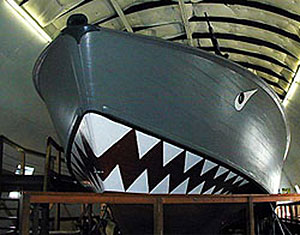 Built in 1945 by Higgins in New Orleans.  Built and deployed at the very end of World War II, she never saw action.  The 796 saw temporary post-war duty as part of MTB Squadron 1, patrolling in the Caribbean and off the East Coast.  The Navy later used her for high speed towing experiments. In 1961 she participated in John F. Kennedy's inauguration repainted as PT-109 (the discerning PT boat enthusiast may have been confused at seeing a smaller Higgins Boat portrayed as the original longer Elco built 109). The boat was decommissioned in 1970.  The veteran's group PT Boats, Inc. bought and restored her in 1975. PT-796 is on display with her sister, the sole surviving Elco produced PT-617 at the privately run non-profit Battleship Cove.   The last of her type to be constructed, she was nicknamed Tail Ender.  The  PT-796 was added by the National Park Service's National Historic Landmarks and the National Register of Historic Places on January 14, 1986
The National Park Service and Preservation of the Last Three PT Boats
The National Register of Historic Places is the official list of the Nation's historic places worthy of preservation. Authorized by the National Historic Preservation Act of 1966, the National Park Service's National Register of Historic Places is part of a national program to coordinate and support public and private efforts to identify, evaluate, and protect America's historic and archeological resources.
National Historic Landmarks (NHLs) are nationally significant historic places designated by the Secretary of the Interior because they possess exceptional value or quality in illustrating or interpreting the heritage of the United States. Today, just over 2,500 historic places bear this national distinction. Working with citizens throughout the nation, the National Historic Landmarks Program draws upon the expertise of National Park Service staff who guide the nomination process for new Landmarks and provide assistance to existing Landmarks.  
Last updated: November 18, 2015