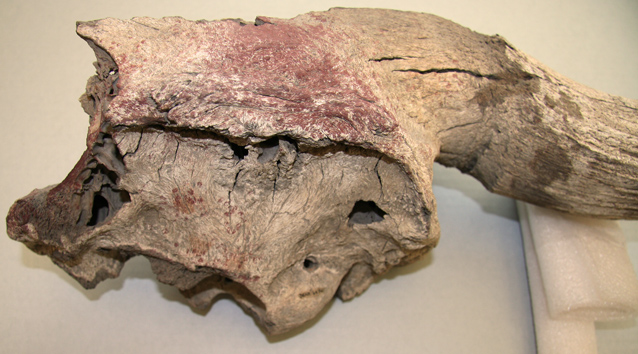 Archeological discoveries sometimes occur by chance. During the summer of 1939, while Alaska Road Commission workers were "cutting bank" to improve the Denali Park Road at Mile 41.5, they uncovered a skull with one horn intact and one missing. Later, the skull was identified as an incomplete fossil skull of an extinct bison species.
In 2006, when archeologists were examining this skull, now part of the museum collection at Denali, one of them noticed that this serendipitous discovery was even more special because the skull was painted with red ochre. Red ochre is a mineral pigment known to represent blood and earth to many traditional societies. This pigment is found throughout the world in iron-rich deposits.
Usually archeologists only study animal remains from the perspective of traditional subsistence practices, but this bison skull allowed the possibility of examining the role of culture and perhaps ritual in the lives of Native Alaskans in what is now Denali.
In 2008, to carefully examine the skull and ochre, and try to figure out the meaning of the painted skull, Kathryn Krasinski, now of Fordham University, arranged for a loan of the skull to the University of Nevada, Reno, where she was then a graduate student. Here follows the account of her investigation into when, how, and why the bison skull was painted.