Fire Prevention 52: Escape, flee, bolt, exit, depart, go, scram, withdraw, run!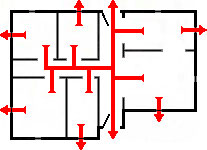 Do you know how to get out of your building if there is a fire?
Fire can develop and spread quickly, not allowing time to plan your escape. Planning before fire strikes greatly increases everyone's chances of escaping safely. Here are some simple steps:
Have a Plan.
Make sure your office space has an emergency evacuation plan in place. At home, identify two ways out of every living space, such as bedrooms, living rooms, etc. Don't forget windows. Check that all doors and windows open easily. Don't forget a plan for opening those screens and security bars. They need to open from the inside without special tools or knowledge.
Know the Plan.
Be sure to know more than one way out of any building from any location within that building and get in the habit of mixing up how you leave from the building. This way you are more assured that exits and doors are not blocked or locked.
No plan is complete without an outside place to meet. Make sure everyone knows where to meet outside. Make it a safe distance from the building, and where emergency responders can see you. Plan on accounting for everyone once safely outside.
Practice the Plan.
People who have participated in drills and received training in emergency response react faster and exercise better decision making than those without training.
This is why conducting fire drills is so valuable. Make fire drills realistic. Participants should not know that there is going to be a drill. The idea of having drills is to practice an emergency evacuation and to test the quality of the evacuation plan.
Most of us routinely use the same entries and exits and may not be familiar with alternates, even after working and living in a building for years. If we had to exit the building in an emergency, we are likely to do what we have been practicing, possibly passing up safer exits.
Fire Info for You
Employees
Do you have children, persons with disabilities, and/or seniors living in your home? If your answer is yes, then it is especially important to have an escape plan and to have practiced it. Learn how to make a fire escape plan for your home.
Fire safety resources for kids:
Watch: Fire Safety Video for Kids with SteveSongs & Sparky the Fire Dog
Visit: Sparky School House
Park Leadership
A written emergency evacuation plan is required by OSHA in workplaces with more than 10 employees. Ensure that current emergency evacuation plans are written, known, and rehearsed by all employees within NPS-owned and -managed buildings. Read the required elements of a plan.
Contact your regional structure fire manager for additional guidance (internal link)
National/Regional Leadership
OSHA 29 CFR 1910.38 requires emergency evacuation plans in workplaces with more than 10 employees. Assist park managers in becoming compliant with this OSHA regulation by making the necessary tools and resources available.
Take Action
Find out if your building has a fire escape plan. Can you locate the two closest doors that lead outside? Does the plan tell you where to meet?
If your building does not have a fire escape plan, ask your supervisor why not.
Take it home: Make a fire escape plan for your home.
NPS Fire Facts
Read about the site of the first large-scale strike of women workers in the country and one of the worst industrial fire disasters in American history. This event led to dramatically improved fire and safety features required in buildings today. The Triangle Shirtwaist Factory (Brown Building) where this fire occurred is now a National Historic Landmark.
Last updated: September 17, 2021