National Bohemian Brewery, Maryland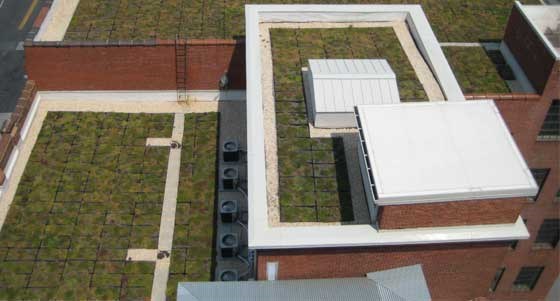 The owners of the National Bohemian Brewery in Baltimore, Maryland, undertook a mixed use rehabilitation that converted the defunct brewery into office space, storage, and retail. The owners wanted to integrate green features into the newly rehabilitated buildings to make them more sustainable and to take advantage of local energy tax credits as well as the Federal Historic Preservation Tax Incentives. Among the new green features included in the project are green roofs located on several of the brewing buildings. Because these buildings have flat roofs, they are great candidates for new green roofs.

The buildings are tall and have sufficient parapets so that the green roof plantings are not visible from the streets and sidewalks. In addition to the green roofs, the project incorporated sections of cool roof and some high albedo concrete which will further reduce the heat island effect on the property. For another green feature of the project, the former beer brewing tanks have been converted to store storm water that is then redistributed throughout the building for various grey water uses such as flushing toilets and irrigation of the green roof.
Last updated: October 12, 2017