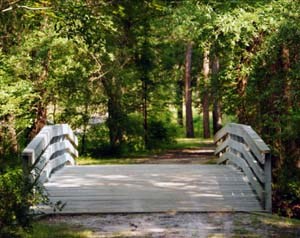 A recent NPS NHPA compliance project at Moores Creek National Battlefield(NB), 19 miles north of Wilmington, North Carolina, offered archeologists an opportunity to verify whether the 1776 Battle of Moores Creek actually took place within the national battlefield boundaries. The Battle of Moores Creek Bridge was one of the first Revolutionary War engagements in the South, pitting American Patriots against Loyalists from North Carolina. In December 2011, NPS archeologists and resources managers conducted an archeological survey to locate the battlefield with the help of the Eastern North Carolina Metal Detecting Association and volunteers from the Department of History at the University of North Carolina, Wilmington. One of the goals of the project was to recover artifacts to prove that the battle was actually fought at the purported site.
The Battle of Moores Creek Bridge
By the summer of 1775, the lines between the North Carolina Patriots, commanded by Colonel Richard Caswell and Colonel Alexander Lillington, and the Loyalists, under the command of General Donald MacDonald, were clearly drawn. Caswell's militia and Lillington's Wilmington District Minutemen combined forces with the First North Carolina Continentals, commanded by Colonel James Moore. Together, the three groups maneuvered to position themselves in ideal locations to meet an attack by the Loyalists.
After losing control of the North Carolina colony to Patriot dissidents, Royal Governor Josiah Martin fled the capital of New Bern in June of 1775, seeking refuge with a small garrison of British troops at Fort Johnston, located in present day Southport, North Carolina, near the mouth of the Cape Fear River. Six weeks later, the North Carolina militia pushed Loyalists out of the fort and onto the Cruzier, a British warship. That autumn, after this embarrassment, Governor Martin requested British troops be sent to join forces with North Carolina Loyalists which was comprised of Highlanders (conservative Scottish immigrants), Tories and former Regulators, deemed to be "the officers of this county [who are] under a better and honester [sic] regulation than any have been for some time," (Hatch 1969:3). Governor Martin was confident that this makeshift army of approximately sixteen hundred men would rally to King George III's flag. Governor Martin authorized General Donald MacDonald to muster a Loyalist army at Cross Creek (present-day Fayetteville, North Carolina) and march toward Wilmington in late February 1776. Planning to invade the North Carolina colony, this army of Loyalist militia set out on a southbound path via the Cape Fear River Valley.