Citizen science is when members of the public participate in the scientific process through collaboration with scientists and organizations. This is one case study demonstrating the value of citizen science in helping the National Park Service to meet its mission.

Case Study Overview
Increasing amounts of historical and battlefield archeological investigations are now utilizing less-intrusive metal detecting for locating potential artifacts. Beginning in 1992 and continuing until the present, the NPS Southeast Archeological Center (SEAC) has been conducting battlefield surveys using metal detector hobbyists.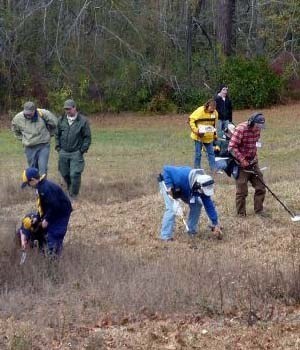 Project Description
As of 2018, the SEAC has undertaken archeological survey using volunteer metal detectorists on five American Civil War parks, three Revolutionary War battlefields, one Red Stick (Indian) battlefield, and one War of 1812 battlefield. These sites include Moore's Creek battlefield, King's Mountain National Military Park, and Chickamauga and Chattanooga National Military Park.
Hundreds of volunteer hours were logged, closely supervised by NPS archeologists. Volunteers and park staff utilized metal detectors and electronic total stations to locate artifacts and document their precise locations. The metal detecting teams located artifacts from the battles that conventional survey methods and archeologists' use of metal detectors had originally missed. Multiple types of artifacts were recovered, including bullets, coins, and buttons.
Data was then aggregated into cells to produce digital contour maps of battle activity. Clusters of artifacts help increase knowledge about the series of events during the battles by illustrating how individuals utilized and moved throughout the landscape. These maps allow more detailed interpretations of battlefields events. The results demonstrate a useful example of how multiple technologies can be applied on battlefield sites.

Challenges
The survey results demonstrated that experience with the equipment made a significant difference in what was located and recovered. In addition, the projects fostered collaboration between archeologists and metal detector hobbyists. The recovered data illustrates the results that can be obtained when there is a good relationship between the two groups.

Benefits and Outcomes
Multiple battlefields had little to no associated artifacts. These surveys succeeded in gathering data that helped archeologists interpret these sites. In addition, these projects demonstrated that a working relationship between archeologists and metal detecting hobbyists was not only possible but also important to achieving reliable results. Volunteers are able to work in places to which they would not otherwise have access and they can handle and photograph the artifacts found. This gives them "bragging rights" and additional information about material culture. The archeologists, on the other hand, have a cadre of hard working volunteers who assist them in gathering essential data.
Tips
The SEAC Metal Detecting Survey Projects case study illustrates the following steps in the Federal Citizen Science and Crowdsourcing Toolkit:
Scope Your Problem—Engage Your Stakeholders and Participants: These projects applied metal detectorist hobbyists' existing technical skills to archeological survey.
Manage Your Data—Analyze Your Data: Archeologists inputted recovered artifact and provenience data into digital mapping software to create contour maps of the battlefields. These maps assisted in interpreting the historical sequence of events.

Contact Information
David Morgan, Southeast Archeological Center Director Email: david_morgan@nps.gov