Josh Bonde, University of Nevada Las Vegas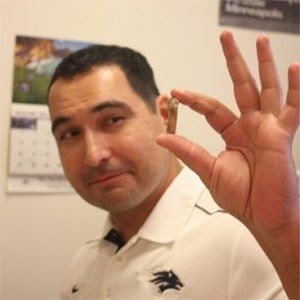 Assistant Professor of Geoscience, University of Nevada Las Vegas, Las Vegas, Nevada
NFD Kid's Page Interview...
What is your job, and what do you study?
I am a professor at a university so my job is to teach college students all about how the Earth works and the history of life on the planet. When I am not teaching I study a type of paleontology called taphonomy. That means I study how organisms are preserved in the rocks to try to tell a story about the environments in which those animals lived. I study a wide variety of animal groups, everything from 320 million year old fish to Ice Age mammoths which lived here in the Las Vegas Valley; the one constant theme of my studies that they all center around the state of Nevada.
What are you working on now?
Right now, I have a number of projects which include; describing dinosaurs from northern Nevada, figuring out how frogs as old as the dinosaurs came to be preserved in an ancient lake, looking for Triassic fossils in southern Nevada, and digging up Ice Age animals from Las Vegas.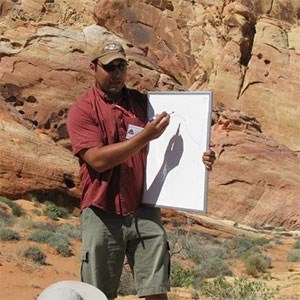 Where did you go to school? What were some of your favorite classes that you took?
I did my bachelors of science at the University of Nevada-Reno in biology, I did my masters of science in earth sciences from Montana State University-Bozeman, and I did my doctorate at UNLV in geoscience. I would say my favorite class as an undergrad was biogeography, learning how plants and animals lived where they do. My favorite class as a masters student was sedimentology, where I got to learn all about how landscapes work and the processes which distribute sediment around and eventually bury animals.
Was there an experience you had that made you realize you wanted to be a paleontologist?
I always really liked paleontology as a kid but the experience which sealed the deal was when I was 7 or 8 and my parents took my brother and me to the Lawrence Hall of Science at the University of California. They had a large animatronic dinosaur display which blew me away and from that visit on I knew what I was going to do and my parents have always been supportive.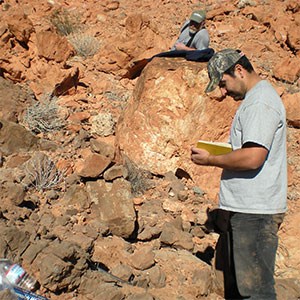 What is your most memorable experience working with fossils?
I have been on so many digs and found so many incredible things but I find that the most memorable experience of working with fossils is the friendships you make when you are out on digs. You are with a bunch of like-minded people out in the middle of nowhere and you get to share stories and work in the dust with each other. Field paleontology is truly a team sport and I think that is a good thing!
Do you have any advice for aspiring paleontologists?
For those of you not at the college level quite yet, get ahold of your local museum or university and ask if you can volunteer. Get some practical experience under your belt before college, and read as much as you can! Also, study hard at your math and english! Many paleontology students in college struggle with these subjects. Once in college continue to gain practical experience, but you also need to network. Go to meetings and meet other paleontologists, sometimes it's all about who you know when it comes time to get a job.
Last updated: August 22, 2017