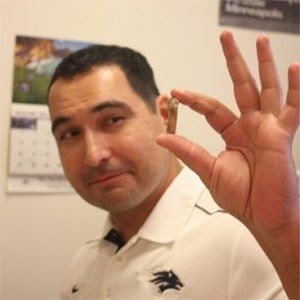 Assistant Professor of Geoscience, University of Nevada Las Vegas, Las Vegas, Nevada
NFD Kid's Page Interview...
What is your job, and what do you study?
I am a professor at a university so my job is to teach college students all about how the Earth works and the history of life on the planet. When I am not teaching I study a type of paleontology called taphonomy. That means I study how organisms are preserved in the rocks to try to tell a story about the environments in which those animals lived. I study a wide variety of animal groups, everything from 320 million year old fish to Ice Age mammoths which lived here in the Las Vegas Valley; the one constant theme of my studies that they all center around the state of Nevada.
What are you working on now?
Right now, I have a number of projects which include; describing dinosaurs from northern Nevada, figuring out how frogs as old as the dinosaurs came to be preserved in an ancient lake, looking for Triassic fossils in southern Nevada, and digging up Ice Age animals from Las Vegas.