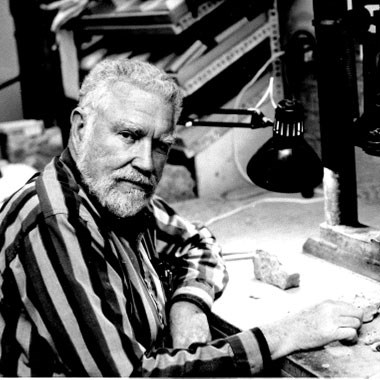 Retired Professor of Geology & Zoology, Oregon State University, Corvallis, Oregon
NFD Kid's Page Interview...
What are you working on now?
I'm now doing a little bit with some Alaskan Devonian brachiopods, global paleobiogeography of the Ordovician, Silurian and Devonian, plus more work on evidences of behavior preserved in the fossil record (2 books published already on this one).
Where did you go to school? What were some of your favorite classes that you took?
I got my B.S. at Harvard in 1948, doctorate in 1953. Some of my favorite classes were paleontology, mineralogy, regional geology, and biostratigraphy.
Was there an experience you had that made you realize you wanted to be a paleontologist?
I became interested in fossils as a small child.
What is your most memorable experience working with fossils?
Most memorable experience with fossils--can't think of any single item--there have been a large number from many parts of the world.
Do you have any advice for aspiring paleontologists?
Collect fossils in your neighborhood and then get local experts to help you identify them and learn more about them.
Learn more about Dr. Boucot:
Dr. Boucot has worked as a professor at several schools, including Harvard, MIT, California Institute of Technology, University of Pennsylvania, and Oregon State University; has worked as a Smithsonian Institution Research Fellow; has worked for the USGS; has organized many Symposia on Paleontology; and has been a member of many Paleontological Societies and Journal editorial boards.
Dr. Boucot focuses his research on marine benthic community paleoecology, historical biogeography, behavioral evidence from the fossil record, integration of the evolutionary evidence from the fossil record, and the ecology, biogeography and taxonomy of Paleozoic gastropods and brachiopods.
Dr. Boucot published the books 'Principles of Marine Benthic Paleoecology' and 'Evolutionary Paleobiology of Behavior and Coevolution', which both were major contributions to the field of paleontology.