Whether you call them meals in foil, zip packs, hobo bundles, or some other name, meals in foil are a handy way of steaming vegetables and protein of your choice. It's fun for kids to build their own packet and then watch it cook! Plus it makes for a hearty meal that tastes great after a day of camping!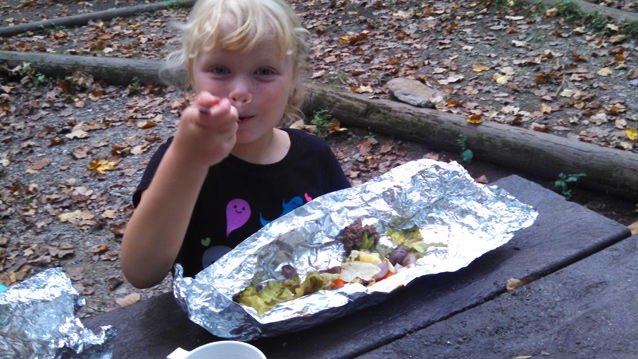 Ingredients and Supplies
There are many possible ingredients to choose from to customize your meal. The following is a tried-and-true starter recipe. You may want to build on this basic plan to make your own amazing camping creation!
Supplies
Fire and wood, or charcoal grill

Aluminum foil (2 feet per person)

Grilling gloves

Cutting board

Knife

Cooking Grate (optional)
Ingredients (serves 3-4)
Ground beef (1 lb)

Potatoes (3-4 large)

Carrots (2-3 large)

Cabbage (1/3 head)

Onion (1 medium)

Salt and pepper
Cooking Directions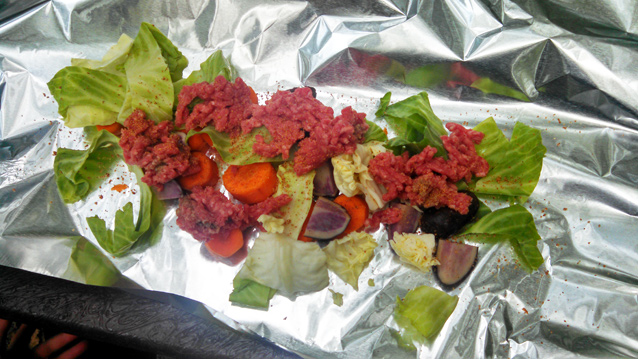 1. Build your fire and give it time to turn into hot coals.
2. Meanwhile, chop the vegetables.*
3. Lay out a sheet of aluminum foil for each person, about 2 feet long.**
4. Put a portion of each desired ingredient into the center of each foil sheet. Sprinkle with seasoning, to taste. (Optional: add a dollop of butter).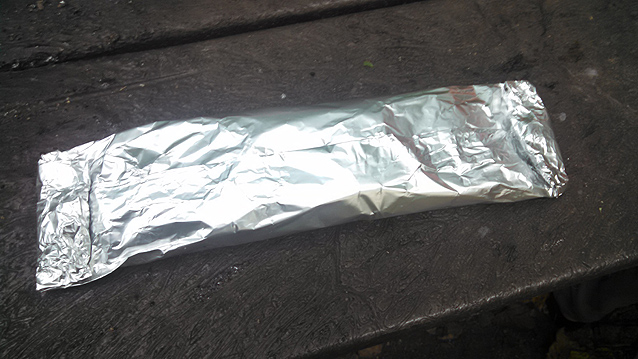 5. Seal the foil into a bundle by rolling the edges down by 1/4" folds, starting with the longest side. Important: the foil needs to form a tight seal. If you are unable to roll the edges down at least two folds, remove some of the food and re-seal. If any holes or tears form in the foil, start over with a fresh sheet.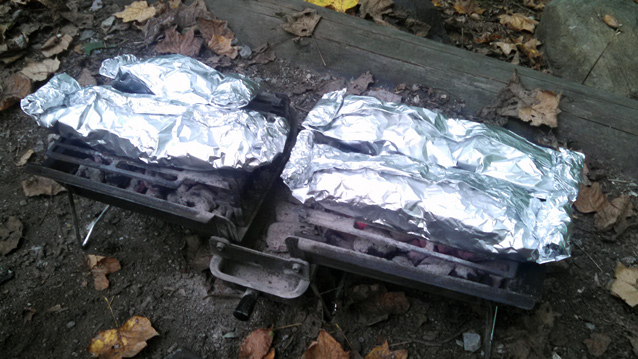 6. Spread your hot coals out evenly and place the optional cooking grate over the coals. You may also cook directly on the coals if you do not have a cooking grate.
7. Using the grilling gloves, gently place the foil packets over the heat and cook for 15-20 minutes, gently turning once halfway through. The foil packets should swell as steam forms inside, cooking the contents evenly.
8. Using the grilling gloves, carefully remove the packets and open the foil. Caution: hot steam will escape when the foil is opened.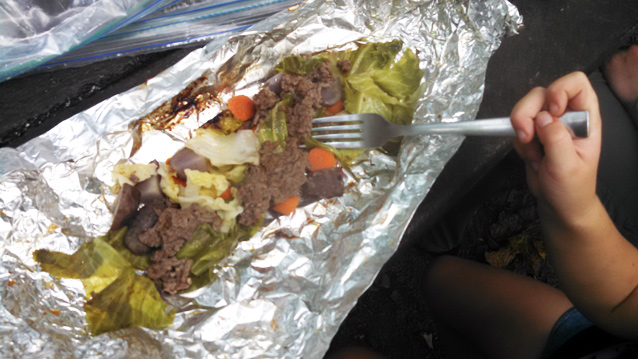 9. Open and enjoy! You can eat right off the foil, so fewer dishes to wash!
10. Remember to keep a clean camp; dispose of waste properly.
Last updated: September 19, 2016