LGBTQ Memorials: UpStairs Lounge Arson Attack, New Orleans, LA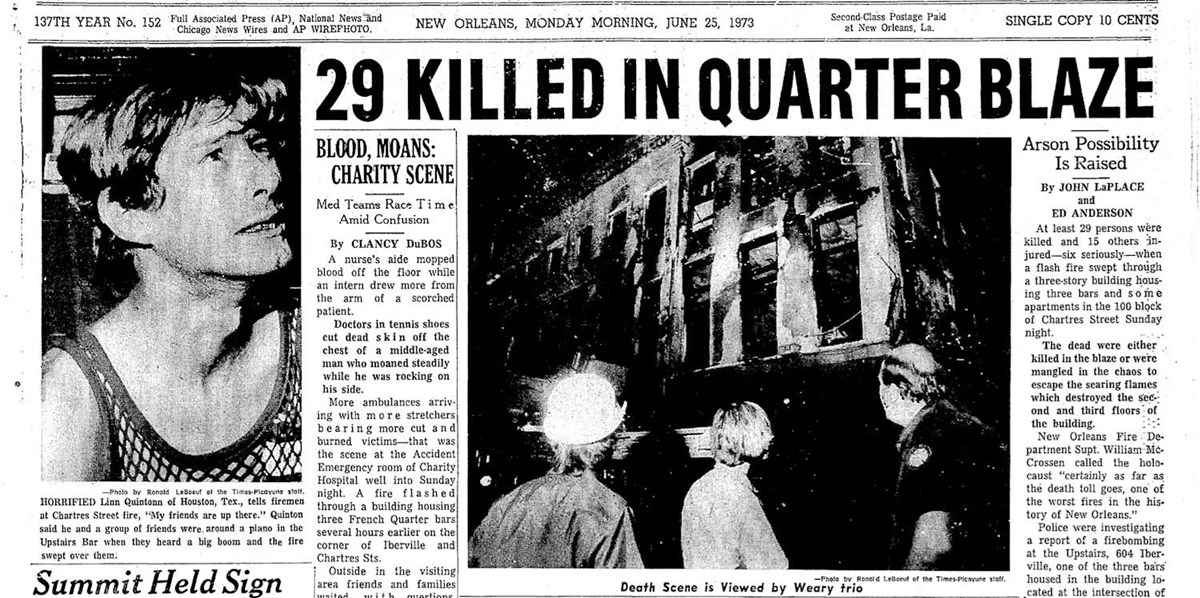 On June 24, 1973, thirty-two people were killed when a meeting of Metropolitan Community Church (MCC) members and friends was attacked by arson in this New Orleans lounge. In the aftermath of the horrific event, survivors and church members suffered rejection and homophobic ridicule from police, community members, and neighboring churches. Jokes were made about the deceased and local churches shunned the MCC, refusing to offer public condolences, or provide space for memorial services. Finally, the Methodist Bishop of Louisiana, who was living a closeted life and had been at the UpStairs Lounge a half-hour before the fire, convinced Reverend Kennedy of the Unitarian Church, to allow services in his church.
When news cameras converged outside of the church, attendees chose to walk out of the services with pride, rather than succumb to the hateful pressure that they had been put under. The connection forged with Reverend Kennedy, who was a Black man, and the refusal to be publicly shamed in the wake of a tragic hate crime galvanized a fierce sense of pride among the LGBTQ community of New Orleans; many call the event the "Stonewall of the South." Thirty years after the incident, a memorial plaque was placed in the sidewalk below the building's fire escape.
Series: Finding Our Place: LGBTQ Heritage in the United States
Last updated: February 20, 2018