Article
LGBTQ Activism: The Stonewall Inn, New York City, NY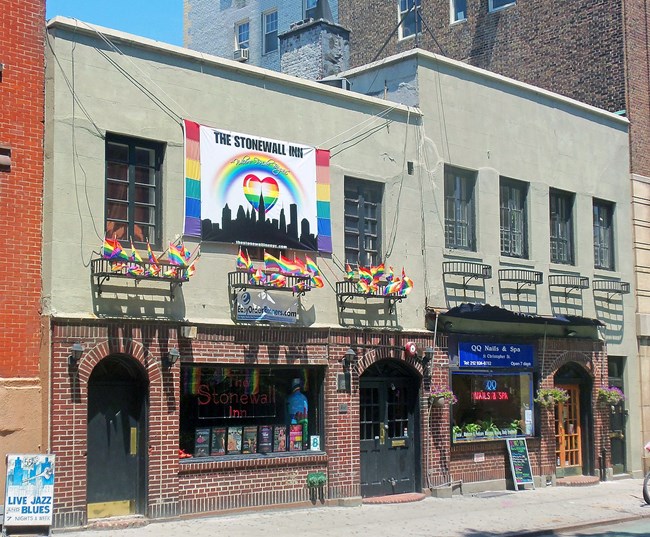 Probably the most well-known event in the struggle for LGBTQ rights, the 1969 uprising at the Stonewall Inn in New York City brought the issue of queer rights into the spotlight. It helped to build solidarity among queer groups that were ready to take a stand against police harassment and violence.
The Stonewall Inn was a gay bar located in the Greenwich Village neighborhood. Like most gay bars across the country, staff and patrons at the Stonewall Inn suffered routine harassment from police, enduring regular raids, as well as associated verbal and physical abuse.
When the bar was raided on June 28, 1969, onlookers refused to disperse. The growing group began chanting and throwing objects at the police, forcing them to retreat inside the bar. Reinforcements were called but the crowd persisted and the demonstration ebbed and flowed in the following days. Late on the evening of July 2nd, a crowd began to gather at Stonewall; several thousand people came together to demonstrate in force. Following this peak of activity, several groups began organizing around gay rights, and although these were certainly not the first efforts at activism, the public support and awareness that developed out of these events were unprecedented.
In 2000 the Stonewall Inn became the first National Historic Landmark nominated for its association with LGBTQ history. In 2016, it was designated Stonewall National Monument, becoming the first National Park Service property recognized specifically for its association with LGTBQ civil rights.
Last updated: February 20, 2018