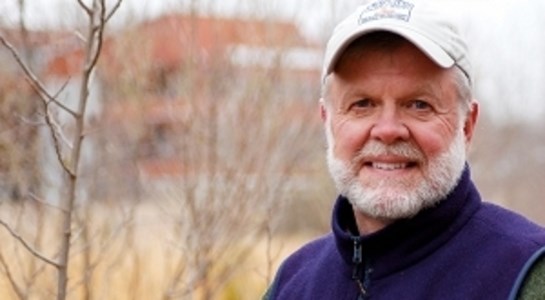 Raised in Richmond and on the lower Potomac, John Page Williams has been a member of the Chesapeake Bay Foundation staff since 1973, serving as a field educator, program administrator, fundraiser, and staff writer while running field trips by canoe, outboard skiff, and workboat on every river system in the Chesapeake.
As Senior Naturalist, he works on a grassroots campaign to develop a strong, active constituency of anglers and boaters throughout the Chesapeake/Susquehanna watershed participating in programs to improve water quality and restore the ecosystem's health. He also serves as liaison with the Chesapeake Conservancy, the National Park Service, the National Oceanic & Atmospheric Administration and the National Geographic Society to develop the Captain John Smith Chesapeake National Historic Trail.
Did you grow up with boats?
Yes. Little boats, wooden skiffs. The first boat in the family was a 15' cypress skiff built by Capt Isaiah Evans on the Shannon Branch on Yeocomico River around 1948. I was out in that by the time I was five years old. When I was 13, I got an aluminum jon boat with a 5 horsepower engine on the back that I could wander all over the place with. I spent my time fishing and exploring.
How important is fishing to you?
My father taught me how to fish. We fished ponds around Richmond, and went out on the Chickahominy, the Yeocomico, the upper James above Richmond. When I was eight, I rode the train to Washington D.C. with my grandmother. She bought me a copy of Field & Stream magazine to keep me occupied. That was a life altering moment. I've been obsessed with fishing magazines ever since. For my birthday she got me a subscription because she saw I loved it so much. In school, when we were asked what we wanted to be as grownups, I said "I want to write for Field & Stream."
You are very familiar with the NOAA interpretive buoys that mark the Captain John Smith Chesapeake National Historic Trail. You recorded stories that people can listen to when they call one of the buoys or go online to get information about the Bay that day. What information do you look at when you go fishing?
I look at chlorophyll A to see about algae blooms, I look at oxygen, water temperature, and salinity. Oxygen is very important. With heavy suburban sprawl and agriculture, the Chesapeake has fallen prey to invisible pollutants and one of the effects is low dissolved oxygen. If you check the Gooses' Reef buoy [John Page opens the NOAA mobile app to check buoy information], check the oxygen level on the bottom. At the surface it is 8 mil per liter. On the bottom it is 0.76 and it has not been above 1.3 in a week. That is close to low enough to kill worms. It is killing oysters. The water is anoxic right now. This is why Gooses's Reef is not a good fishing reef.
How can people who don't own a boat have an experience on the Chesapeake Bay or one of the rivers?
Increasingly, towns and cities are smart enough to have water taxis and tour boats. Watermark Tours in Annapolis is really important. In Havre de Grace (MD) you can take a ride on the skipjack Martha Lewis. If you're in Richmond, there's a tour boat at Rockett's Landing. A very special opportunity there is with Captain Mike Ostrander. Go to his website, www.DiscoverTheJames.com, and you can arrange a trip on Discovery II which is a 6 person pontoon boat. He'll take you fishing for big and small blue catfish. Big cats are 30 to 50 lb fish to wrestle with. He'll take you to see Bandit the eagle and other birds nesting on the river. You are going to see half a dozen eagles. In the fall, in September, you might also see another remarkable critter jumping out of the water. That would be a 5 to 8 foot sturgeon, a member of the fall spawning run that is newly discovered in the James. What are some stunning places that people should try to see? Fones Cliffs on the Rappahannock. You can catch a ride with Rappahannock River Cruises and Captain Thomas, out of Tappahannock. This is a really special stretch of the Rappahannock River. On the James River, I'd recommend Jefferson's Reach. That's what Mike Ostrander named that stretch of river where Bandit the eagle lives. Mike named it that for our late great friend Danny Jefferson who was on the Chickahominy Tribal Council, and whose great uncle my father and I rented skiffs from to fish the Chickahominy in the 1950s. Sherman Jefferson was a magnet for me. That was a treat to rent one of his boats. On the eastern shore of Maryland, put in a kayak at Vienna on the Nanticoke River and paddle up Chicone Creek.
Sail or paddle with Sultana Education Foundation. They do wonderful tours from Chestertown MD on the Chester and the Sassafras River.
On the Potomac River, well, there are tour boat companies all over the Potomac, and fishing guides. One of my favorites off the upper tidal Potomac is Mattingly Park, on Mattawoman Creek, in Indian Head. It's a stunning place. And on the Virginia side, Mason Neck State Park has a nice little kayak/canoe launch and marvelous trails along wild rice marshes. These places are great testimony to turning over the quality of the water in Potomac, bringing people in, and building a tourism economy.
One really good source for getting onto the water is the Watermen's Heritage Tours offered by skillful men and women in both Maryland and Virginia who have completed special training courses in bringing "the water business" to anyone who wants to experience these quintessential Chesapeake ways of life. Visit http://www.watermenheritagetours.org/Types-of-Tours for more information.
Do you have a favorite Chesapeake place?
My home river is the Severn. It wonders me that I could live for 42 years on a 13 mile river and still be learning about it every time I go out there. And I'd have to say the Jug Bay area of Patuxent River Park. It is arguably the finest public facility on the Chesapeake, with all due regard to First Landing State Park at Virginia's Cape Henry, or Belle Isle State Park on the Rappahannock, or the Blackwater National Wildlife Refuge near Cambridge, Maryland. At Jug Bay, the Maryland-National Capital Park and Planning Commission has done a tremendous job preserving the culture and environment of the Patuxent, and they've done it with input from the old river families. You're in deep country, and yet only 25 miles from Washington DC. I've been running canoes and my skiff on the Park's Mattaponi Creek for 40 years and it is still the same creek. It is rich and accessible in natural resources and human history there. The inter-relationships between human history and natural history are a fascinating topic for me. The Park offers canoes to rent, walking trails, and tours by pontoon boat. And it's interesting at any season of the year.