Missouri Bladderpod Status at Wilson's Creek National Battlefield

The Missouri bladderpod (Physaria filiformis), listed as threatened under the Endangered Species Act, grows in southwestern Missouri and northwestern Arkansas. It occurs at several locations at Wilson's Creek NB, where staff continues to adapt landscape management practices to meet needs of cultural and natural resources, while protecting bladderpod populations.

Long Term Monitoring: Population monitoring using cover classes
The Heartland Inventory and Monitoring Network has used various methods to estimate the number and density of bladderpods at Wilson's Creek NB over 25 years. Scientists currently use a grid-based approach to estimate abundance in each glade. They tally plant abundance estimates using cover classes, such that cover class 1 represents 1 to 19 plants in the sample through cover class 7, which represents between 5,000 to 9,999 plants. Scientists then combine sample tallies to estimate total bladderpod abundance in each glade.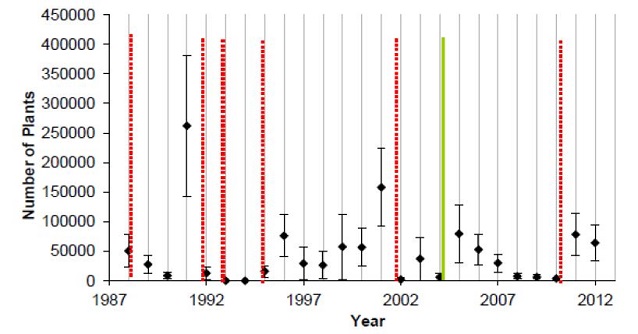 Status and Trends:
Population size linked to environmental factors
Scientists have documented relatively large variability in population sizes at each sample site during the years. Some data suggest a relationship between bladderpod population size and prescribed fire events, but response varied too greatly to say that fire consistently increases population size. Reducing competition from eastern red cedars appears to be beneficial to bladderpod, but here again, response varied too much to find a consistent relationship with population size. Additionally, scientists found:
Fire intensity may determine the degree and type of 

change in population size. Fire timing and frequency 

may affect population size also.

In some cases precipitation, temperature, and mi

crohabitat conditions may have influenced population 

size more strongly than fire alone.
Last updated: July 3, 2017